Have you decided which restaurants to go for a sumptuous Chinese New Year dinner? Here are some special restaurants that you might want to bring your loved ones to visit to enjoy a unique and memorable CNY dinner!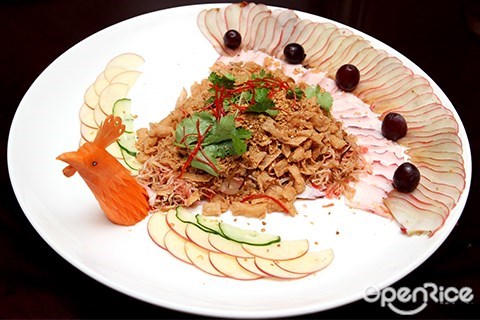 (The restaurants are listed in no particular order.)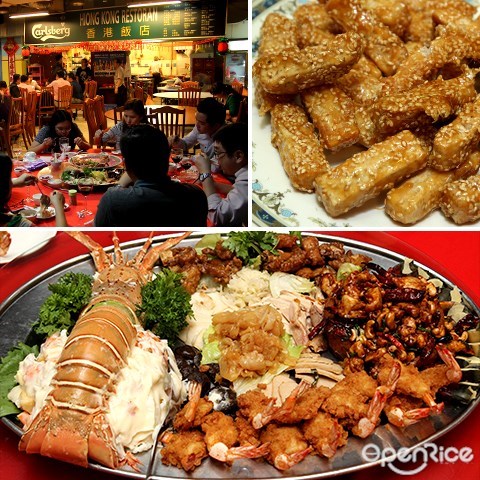 Hiong Kong Restaurant
is perhaps the city's best kept secret for classic Cantonese Cuisine. To dine here, pre-booking is mandatory, as this Chinese restaurant doesn't accept any walk-in customer. Tables in the weekends are often fully booked 3 weeks in advance. The kitchen is helmed by Chef Wong, who used to work at a famous Chinese restaurant for many years. Many traditional Cantonese dishes can be found here, including Lobster Platter, Braised Goose Web and Scallop, Eight Treasure Duck and Caramelized Yam.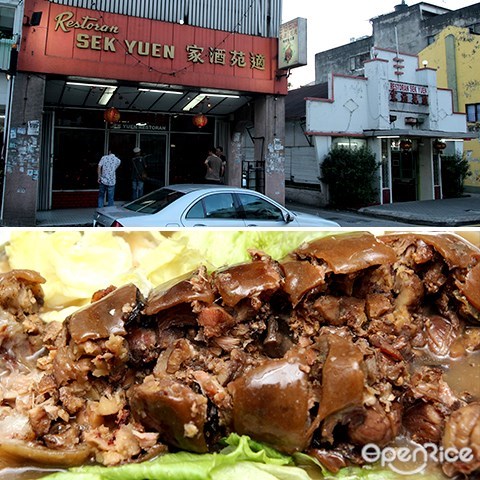 Sek Yuen
is one of the oldest Chinese restaurants in KL with more than 60 years of history. What's amazing about this restaurant is that they are still using wood fire to prepare all the dishes! Same as Hiong Kong Restaurant, you can find many classic Cantonese dishes here, such as Cold Chicken, Pi Pa Duck, Eight Treasure Pork Leg, and Kwai Fa Chi. Their signature Eight Treasure Pork Leg is very special, as it's stuffed with eight different types of ingredients.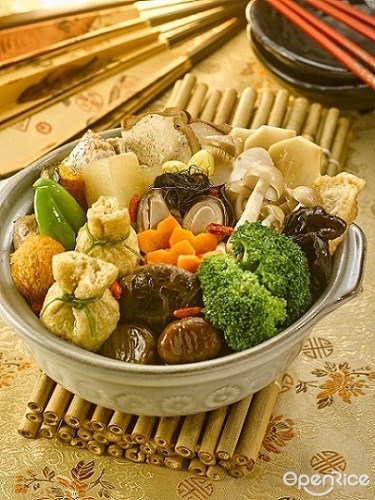 To usher in a prosperous CNY this year,
Simple Life
has launched a brand new Veggie Treasure Pot prepared using 19 different vegetarian dishes, including lion's mane mushroom, straw mushroom, organic black fungus, yam, carrot, pumpkin, etc. The treasure pot is not only delicious, but also healthy and high in fiber. The outlets of Simple Life can be found at many shopping malls, which makes it an ideal place to enjoy a healthy dinner during CNY.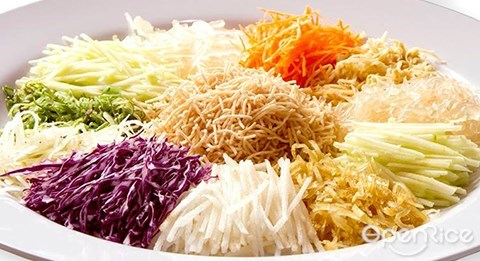 photo credit to Kechara Oasis
Celebrate CNY in a healthy way at
Kechara Oasis
, where you can enjoy two types of banquet menu. Each menu features 9 exquisite vegetarian dishes with auspicious names. These Chinese restaurants have also launched a unique Yee Sang prepared using vegetarian ingredients, such as pine nuts, lemons, oranges, carrots, mangoes, pears, etc. It's nutritious and free from preservatives and colouring.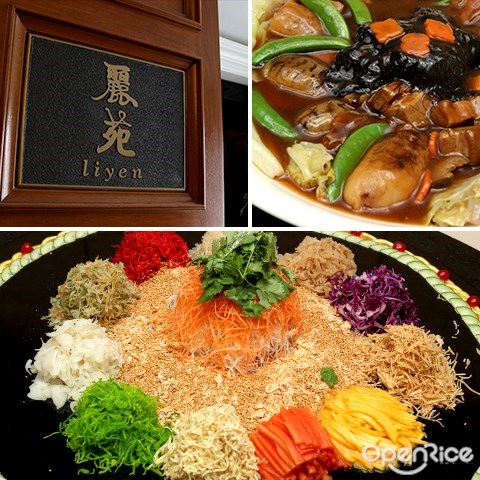 Li Yen
is an award-wining Cantonese restaurant located at Ritz Carlton Hotel in KL. At this upscale restaurant, you can indulge yourself in exquisite and traditional Cantonese dishes prepared by Master Chef Leung. For CNY, Li Yen features premium set menus with 8 courses crafted with fine ingredients, such as double-boiled fish maw soup, braised dried oyster with sea cucumber, and claypot rice with waxed meats, to whet your appetite.
Shanghai Restaurant
is the only hotel restaurant in KL that specializes in Shanghai Cuisine. The highlight of their CNY menu this year is the Mediterranean Octopus with Fresh Fruits Yee Sang. It is served with a variety of fresh fruits and drizzled with special wasabi soy sauce to enhance the flavors. Other specialty CNY dishes include Shrimp Balls in Black Sesame Paste and Steamed Glutinous Rice with Waxed Spanish Pork.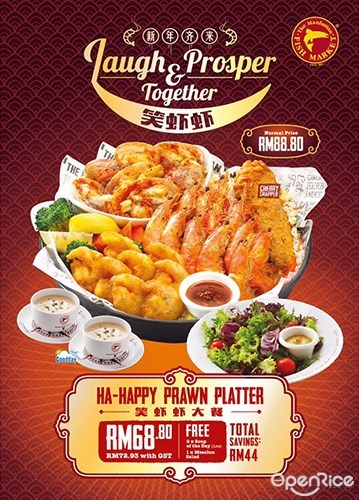 Ever tried having CNY dinner at a Western seafood restaurant? For CNY,
The Manhattan FISH MARKET
is launching a special festive dish called Ha-Happy Prawn Platter on 18th January. The platter comes with imported giant clams, prawns and cherry snapper lying atop of a bed of fragrant garlic herbs rice and a side of vegetables. In Cantonese, "prawn" has the same pronunciation as "laughter"; hence, eating prawns is considered an auspicious thing to do during CNY. This platter is a perfect dish for 2, as it comes with 2 free bowls of soup and 1 complimentary salad.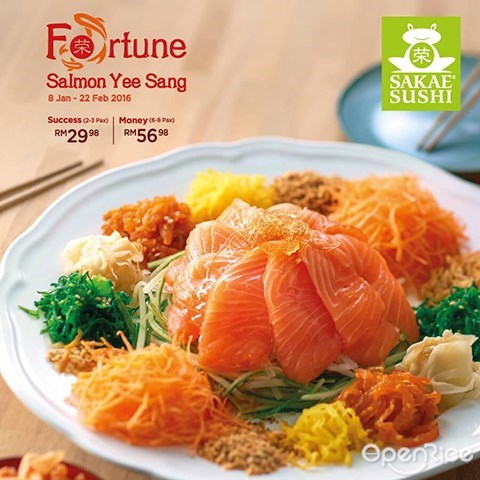 With more and more Japanese restaurants offering Yee Sang during the festive season of CNY, it's not a bad idea to have CNY dinner at a Japanese restaurant. This year,
Sakae Sushi
offers a sumptuous Yee Sang with fresh air-flown salmon at an affordable price. The Yee Sang is served with Japanese ingredients and drizzled with appetizing specialty sauce. After tossing the Yee Sang, you can tantalize your taste-buds with a wide range of ala carte Japanese dishes!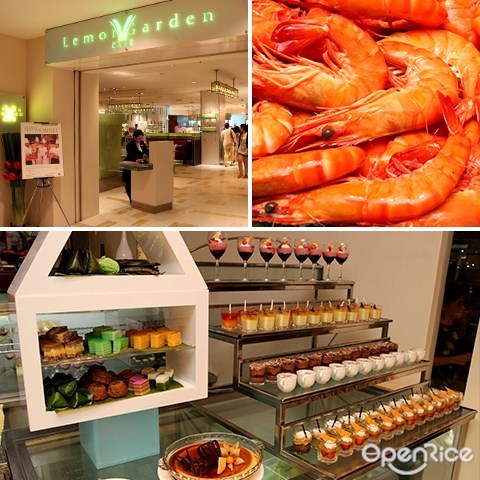 Having buffet for CNY dinner or reunion dinner seems to be a new trend, as we can enjoy more choices of food and everyone gets to choose what they like. For CNY buffet this year, the popular
Lemon Garden Café
is offering Yee Sang as part of their international buffet spread. You can customize your own Yee Sang with the ingredients that you like. And there are a wide range of other dishes, especially seafood and desserts, to entice your taste-buds.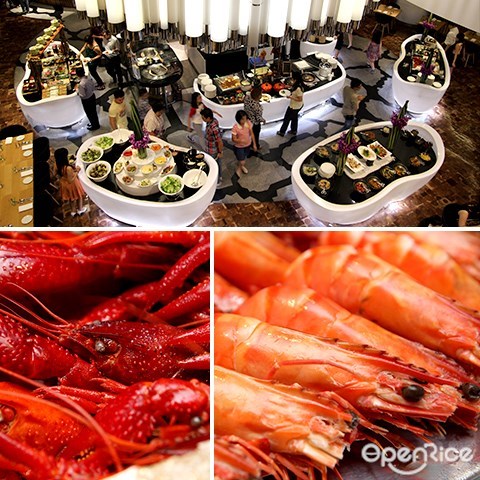 During the season of CNY, you will be spoiled for choices at the CNY buffet dinner at
Vasco's
with a wide range of mouth-watering Chinese dishes, such as steamed fish with sea-moss, stewed Chinese cabbage with oyster and fatt choy, and wok fried pan mee noodles, as well as other international dishes. Having a buffet dinner here would be a great way to celebrate CNY, as all family members get to satisfy their palate with whatever food they like.
Other Related Topics