Hokkien Mee, Chee Cheong Fun, Wantan Mee, Beef Noodles, Yong Tau Foo…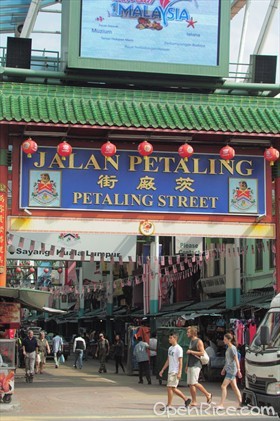 When it comes to traditional Chinese food in KL, one has little doubt that Petaling Street, or Chinatown, is the best place to be. Walking amidst a cluster of pre-war shop houses on the street, you will be spoiled for choice with a wide variety of classic Chinese food that has withstood the test of time.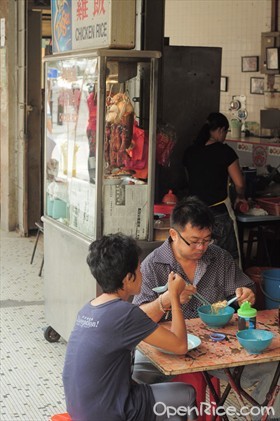 Feel free to enjoy your food hunting at Petaling Street from dawn to dusk, because some food stalls are only open in the morning while others only at night. Having said that, however, finding some of the hidden gems with delicious food here could be a tricky task, since some stalls are quietly hidden in the alley or tucked behind a row of stalls. For the uninitiated, here is a simple guide to the best food that you must try in Chinatown:

1. Hokkien Mee

Restaurant: Kim Lian Kee, Lian Bee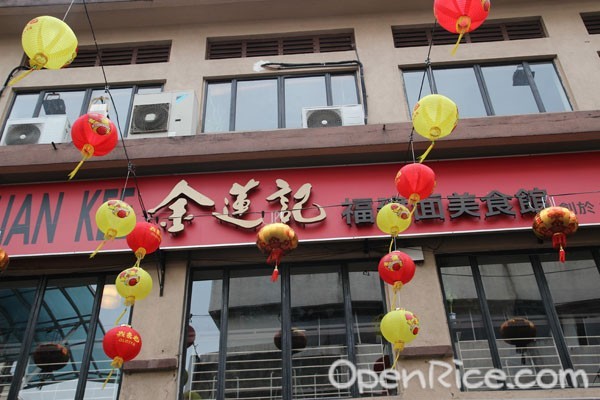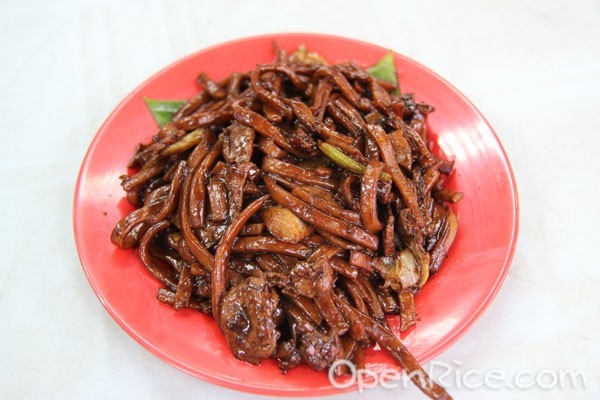 There are two Hokkien Mee restaurants in Petaling Street that worth trying. One is of course the well-known Kim Lian Kee, which is widely recognized as the birth place of Hokkien Mee. It has two separate shops at the junction of Petaling Street. Opt for the old shop (open after 5:30pm) located opposite of Hong Leong Bank if you are craving for the original charcoal stir-fried Hokkien Mee. Another Hokkien Mee stall is hidden at the back lane of Lai Foong Kopitiam. It has been around for more than 60 years. After half a century, the third generation still insists on stir-frying the noodles in traditional way with charcoal fire. The thick and sticky Hokkien Mee has sufficient "wok hei" and plenty of fried pork lards thrown in.

2. Beef Noodles

Restaurant: Shin Kee Beef Noodles Specialists, Lai Foong Kopitiam, Soong Kee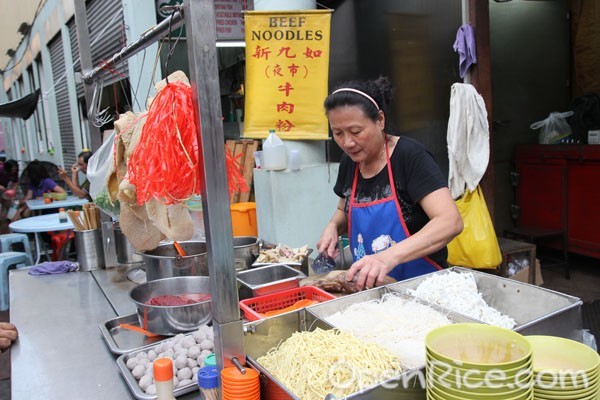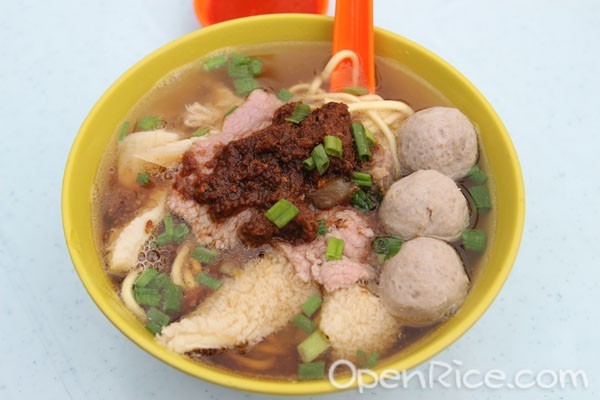 Chinatown is undoubtedly a haven for beef noodles lovers, as three well-known beef noodles eateries can be found here. The first one is Shin Kee located at the back lane of Hong Leong Bank. It has been around for 60 years. Tantalize your taste-buds with a bowl of noodles of your choice with minced meat, beef slices, beef balls, and beef innards. The second beef noodles stall is nestled in Lai Foong kopitiam at Jalan Tun H.S. Lee. You can choose to add in a rich variety of beef innards, including tripe, stomach, tendon, leaf tripe, intestine and even penis!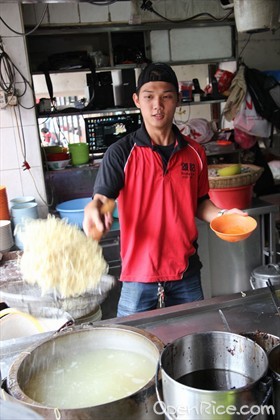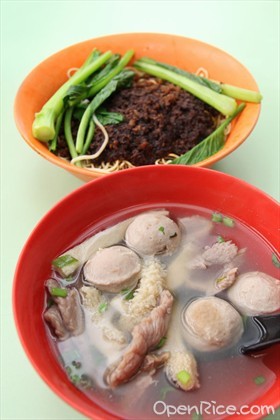 Another beef noodles restaurant that you wouldn't want to miss out is Soong Kee. Indulge yourself in a bowl of dry thin noodles topped with two types of minced meat (beef and pork) and a bowl of soup with freshly cooked beef slices, beef balls and beef innards.

3. Chee Cheong Fun

Restaurant: Petaling Street Chee Cheong Fun, Madras Lane Chee Cheong Fun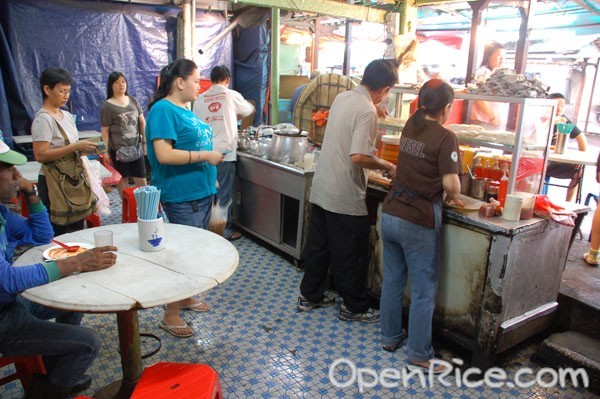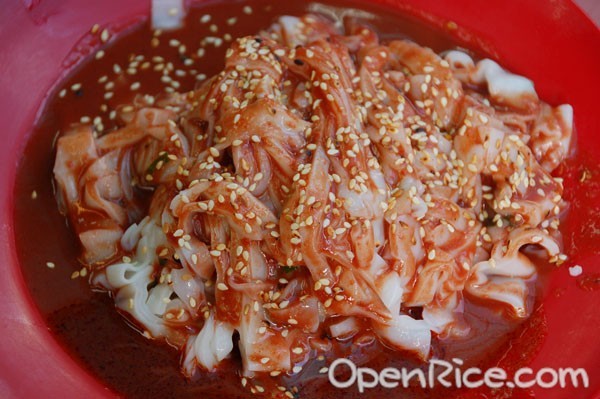 Unlike chee cheong fun that comes with a variety of accompaniments, the stalls located at the cross road of Petaling Street offers original Cantonese style Chee Cheong Fun that is surprisingly simple. You get a plate of plain rice noodles with house special sweet sauce or chili sauce. The business is so good that the chee cheong fun is normally sold out by noon.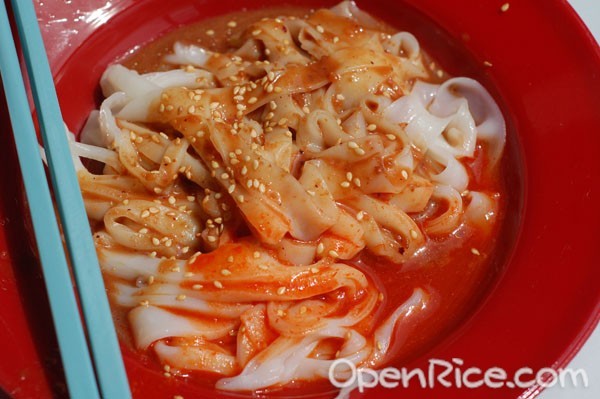 Another good chee cheong fun stall is situated at the wet market of Madras Lane. It also serves plain chee cheong fun with sweet brown sauce. The homemade Chee Cheong Fun is so soft and slippery that it melts in your mouth!

4. Roasted Duck

Restaurant: Sze Ngan Chye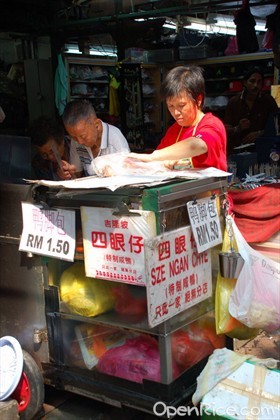 Literarily meaning "four-eyed man" in Cantonese, Sze Ngan Chye is a street stall located in the middle of Petaling Street. The stall has been around for more than 50 years, and now it is run by the owner's two daughters.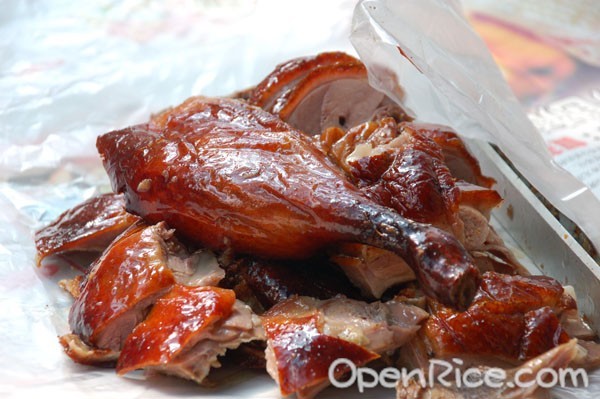 The roasted duck is crispy and succulent with a special salty taste. Many customers remain loyal to this stall, because the taste has been consistent throughout the years. Try it once and you will be addicted to it! The duck is only available for take away.

5. Portuguese Grilled Fish

Restaurant: Ikan Panggang Portugis Istimewa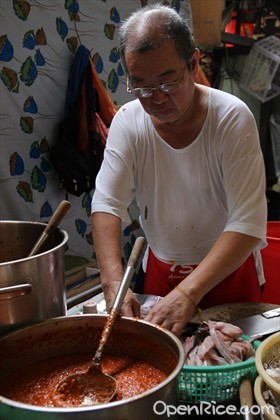 Hidden in the walkway next to Hong Leong Bank, the stall is famous for its hot and spicy Portuguese Grilled Fish.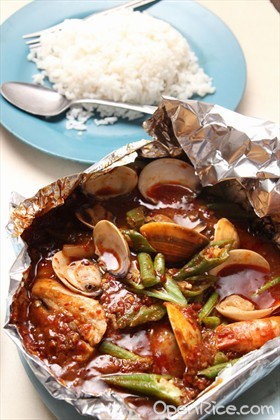 The fish is wrapped in aluminium foil with special homemade chili paste and grilled on the spot with charcoal fire when an order is placed. In addition to fish, you can also add in vegetables, prawns, squids, and so on to enhance your dining experience.

6. Wantan Mee

Restaurant: Koon Kee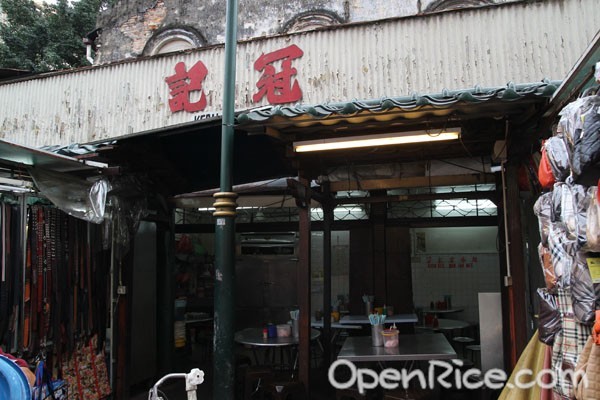 Buried behind a cluster of street stalls, Koon Kee Restaurant offers arguably the best wantan mee in town. In operation since 1942, the restaurant is now run by the third generation.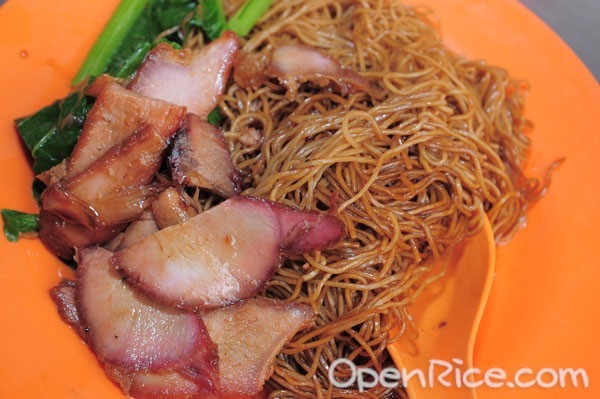 The wanton mee here has won the heart of KL foodies for several decades with its bouncy and thin noodles that are handmade daily. Aside from BBQ pork, other delicious accompaniments, such as poached chicken, shredded chicken and mushroom and chicken feet, are also available.

7. Cantonese Porridge

Restaurant: Hon Kee Famous Porridge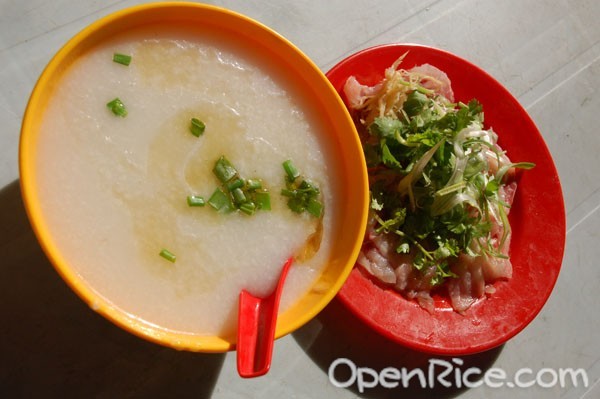 What is better than having a warm and smooth porridge for breakfast to kick off your day? Run by the third generation, Hon Kee has been serving Cantonese style porridges at Petaling Street for more than six decades. Patrons keep coming to this eatery early in the morning to savour its famous Raw Fish Porridge. It comes with a bowl of warm and plain porridge paired with a plate of fresh raw fish with house special soy sauce, ginger, and coriander.

8. Claypot Loh Shu Fun

Restaurant: China Town Seng Kee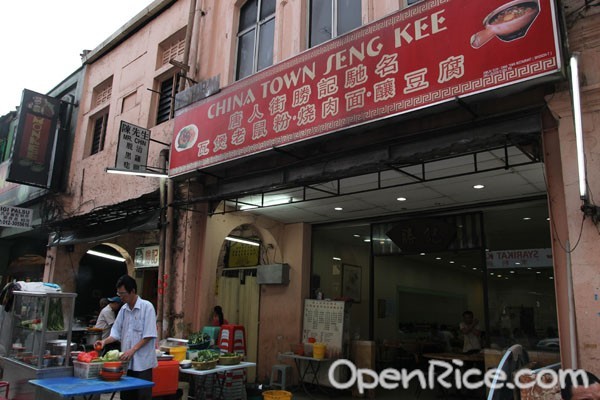 If you are a lover of Claypot Loh Shu Fun, Seng Kee Restaurant is the place for you. The shop is so popular that the name Seng Kee has become almost synonymous with Claypot Loh Shu Fun.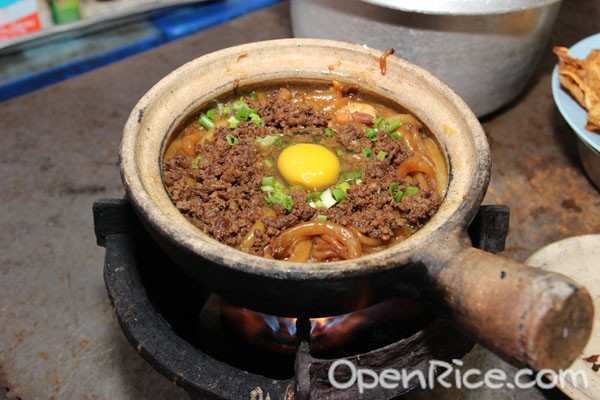 The smooth and springy noodles are cooked with lots of minced pork and delicious gravy in a claypot. Before serving, a raw egg is added on top to make the dish a feast for the palate and the eyes.

9. Yong Tao Foo

Restaurant: Madras Lane Yong Tao Foo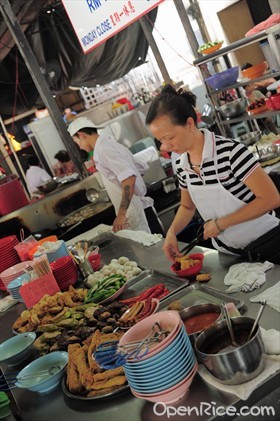 Nestled in the wet market of Chinatown, the stall is noted for its freshly handmade Yong Tao Foo. The staffs are always busy stuffing vegetables with fresh fish paste and deep-frying the stuffed vegetables to satisfy the customers that keep pouring in.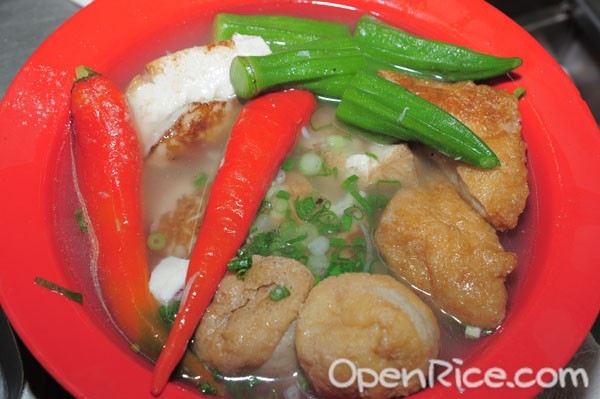 Some delicious specialties include stewed tofu, fish ball, and fried foo chok. Remember to dip them in sweet or chili sauce to enhance the flavours.

10. Chicken Rice

Restaurant: Kam Kee Restaurant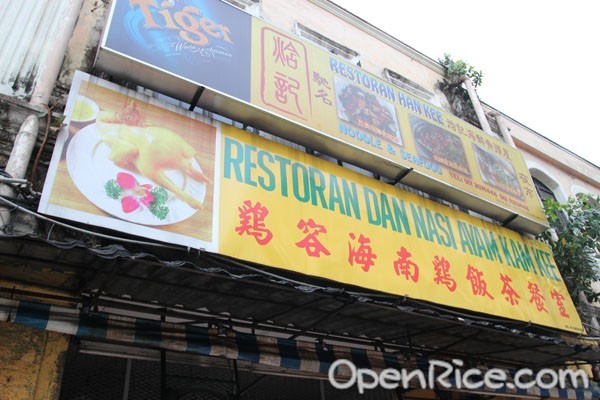 The owner of Kam Kee chicken rice stall used to be the main chef of Nam Heong Restaurant located just a few shop lots away. He started his own shop about a decade ago, and still insists on preparing the popular Hainanese Chicken Rice in the traditional way.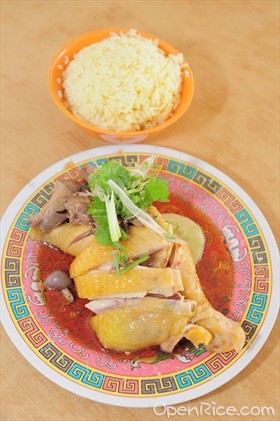 Housed in an old kopitiam, the restaurant exudes a warm and nostalgic ambience. If budget is not a constraint, then opt for the free range chicken with yellow skin and firm flesh. The chewy and succulent poached chicken is moistened with dark soy sauce and garnished with spring onions. Apart from the dishes mentioned above, there are a lot more delicious food and snacks in Chinatown waiting for you to explore!
Hunt for the hottest noodles restaurant
Discover more top wantan mee restaurant
Other Related Topics