It's the month of love! Couples would seize the opportunity to rekindle and revive the romantic connection in their relationship, while singles would try their best to impress their dates. Now comes the critical question: where should I go for
Valentine's Day
? Whether it's an all-splurge fine dining or a cozy dinner in a dimly lit restaurant, don't worry – we've got you covered with our selection of the 10 Most Romantic Restaurants in KL!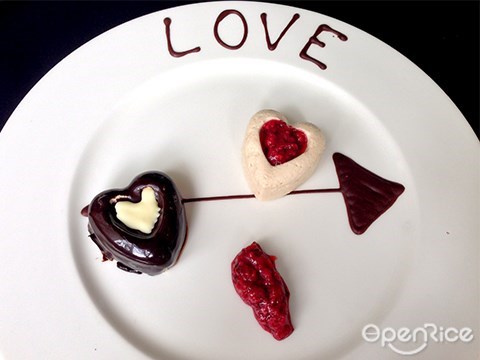 (The restaurants below are arranged in no particular order. Some of the establishments are not halal.)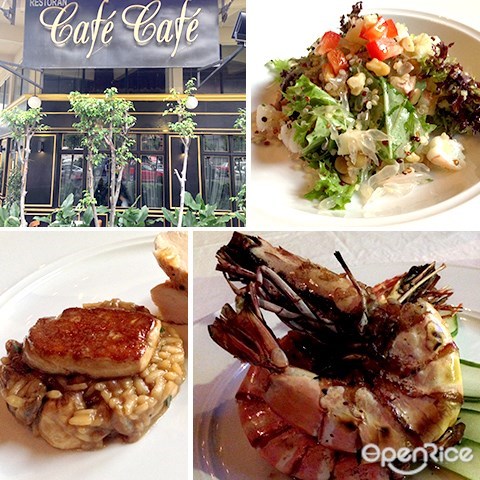 Step into
Café Café
and feel the hustle bustle of the city melt away. Although this is an authentic French restaurant, the Valentine's menu has a little Asian twist to it. There are three choices of mains: grilled chicken with risotto topped with the French's staple pan seared foie gras, Café Café's signature Beef Burgundy which is stewed to perfect tenderness and bursting with rich flavours, and lastly all of our praises goes to this unique creation – tiger prawns with lemongrass sauce accompanied by mangosteen and lychee. This combination will probably raise eyebrows, but the perfect complement between the tropical fruits and fresh charcoal-grilled tiger prawns is mind blowing. There are two dining sessions on Valentine's Day – 6.30pm and 9.30pm. Nonetheless, we would advise readers to make booking at least a week in advance to avoid disappointment.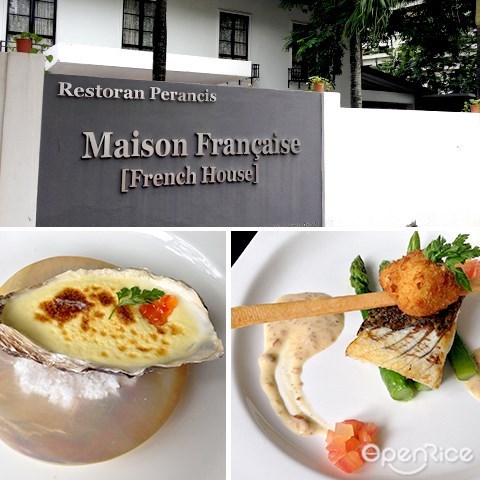 This French House with its floor-to-ceiling glass windows and dreamy white furnishing akin a fairy tale setting. If you're looking to splurge, this is the perfect place to experience an exquisite French haute cuisine. On top of its Valentine's menu, Executive Chef Thierry Le Baut first impresses with the slurp-worthy gratinated oyster with champagne that will leave you love drunk at first sip. Next up, the Chef again drops the perfect pick-up line with its smooth and rich foie gras terrine with a layer of cucumber and truffle jelly to balance things up. For mains, there's a choice between lamb or sea bass. The lamb tenderloin is done to a perfect medium and gratinated with hazelnuts to add a little crunch to its partner. Meanwhile, the Chef again fishes for our compliment with the sea bass topped with a croquette containing béarnaise sauce. Last but not least, a cute little chocolate mousse dessert with raspberry to end the night on a sweet note. Click
here
for valentine menu.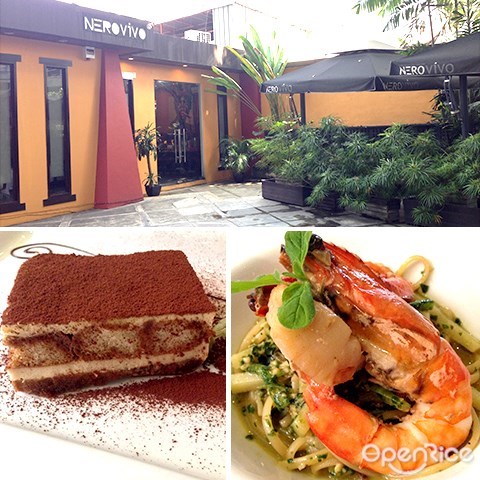 Did you know that the history of Valentine's Day dates all the way back to Rome? So head on down to one of KL's best Italian restaurant to celebrate love! Nerovivo is all about producing authentic Italian cuisine using the freshest and top-notch ingredients. The seafood soup that was sampled came with a generous portion of fresh seafood, the texture of which sits on the fence between bouncy and tender. A bite into its al-dante pasta and you will not look at the ordinary store-bought pasta the same way again. Meanwhile, all sauces are prepared from scratch using premium ingredients. Also not to miss its Tiramisu, one of the versions with more moisture but surprisingly isn't soggy. The bittersweet espresso and gentle caress of liquor oozes seduction to the palette. On Valentine's Day, two dining sessions will be held. However, Nerovivo intends to keep its crowd size to a manageable one so as to keep with its high quality standards – so do book early!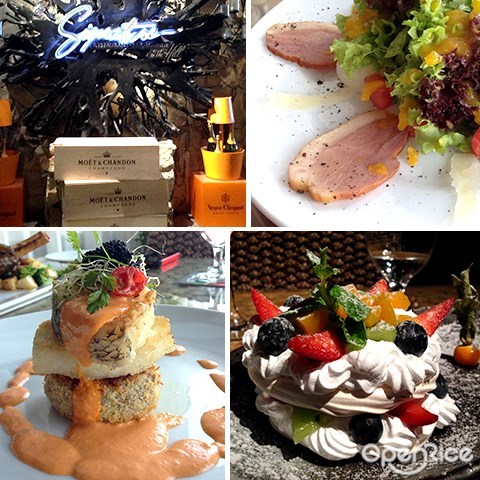 Love is in the air here at
the Roof
. Where sky dining is concern, Stratosphere is certainly your best bet with its open air rooftop panoramic view of PJ skyline with a specially added touch of romance – think scattered rose petals! Come a little bit closer down to earth at Signature, also a romantic spot with good views and romantic ambience. The buffet line offers soup selections such as tomato and mushroom soup; salad choices such as smoked duck salad and smoked salmon salad; and yes ladies, all-you-can-eat desserts with the likes of pavlovas, chocolate mousse, crème brulee and Danish pastries. Mains differs for both Stratosphere and Signature respectively. The former fires up a main flame grill right in front of you while the latter offers four choices of mains – cod, salmon, beef and lamb. The cod is topped generously with caviar which when eaten together, flirts with the taste buds like a smooth talker. Click
here
for Signature's valentine menu. Click
here
for Stratosphere's valentine menu.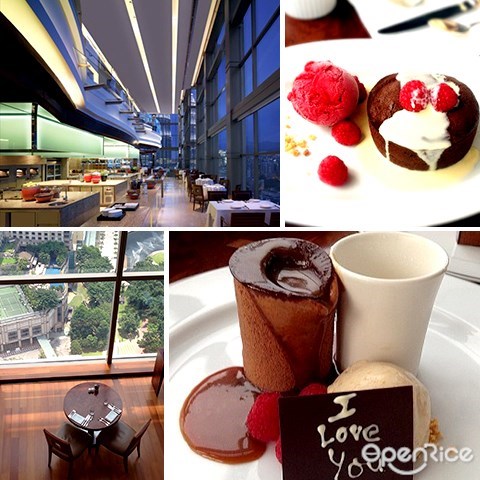 If you'd want to impress a date, then dining with a 360-degree view of our iconic KL city lights in front of you will fit the bill.
Thirty8
also has the usual drama for a romantic restaurant – think dim-lit, candle lights, a live jazz band to tune into the right mood and even the infamous staircase which serves as a picture perfect backdrop. It's an international affair here with the menu spanning from steaks, seafood, Chinese stir-fries, sushi and sashimi. And the drama extends to its desserts. THIRTY8 Signature Cake is served with a misty charm while the waiter puts on a show of pouring warm butterscotch sauce which melts away the chocolate core of the cake. Click
here
for Thirty8's valentine menu.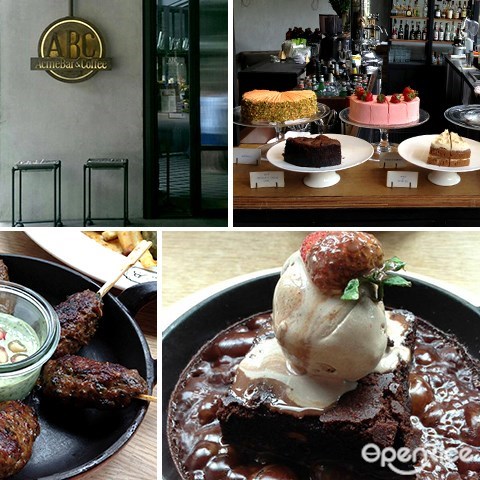 With its wall-length glass panes, rustic interior and candle-lit tables, this is yet another steamy spot in KL for a good date night. Menu-wise is a bit of Western and Asian and sometimes, a combination of both. The concept here is to cook familiar dishes to the Malaysian society with their own twist. For starters, we would recommend the Moussaka Meatballs and Lamb Kofta Sticks. Both of which are heavy and rich in taste – satisfaction guaranteed. ABC also does a perfect medium for steaks where the imported beef retains its juiciness and beefy flavours. Desserts would also be a wise choice here with the ever-popular sizzling brownies with oreo ice-cream and an assortment of cakes available to choose from the counter. Click
here
for ABC's valentine menu.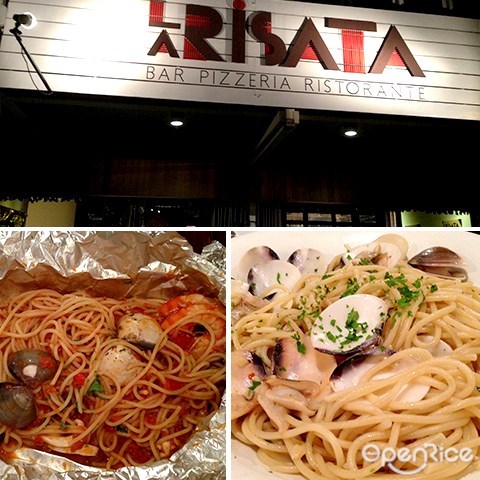 Moving away from candle-lit dinners,
La Risata
literally means "the laughter" and is a lively and crowded restaurant that dishes out hearty Italian cuisine since 1996. One wouldn't consider this fine dining though. La Risata's forte lies in its traditional wood-fired oven thin and crispy pizzas and also pastas. The Spaghetti Alla Risata is practically a staple for every table. However, we wish to divert your attention to the underdog in the menu – Fettucine Mare E Monti – which consists of fat chunks of juicy scallops, wild porcini and shitake mushroom cooked in cream sauce. The sauce entwines the wild porcini in creamy goodness while pieces of cherry tomatoes helps to neutralize this heavy dish. The generous portion of scallops is truly unbelievable by today's standards. Click
here
for La Risata's valentine menu.
Opus Bistro
is a humble Italian Restaurant amid the more sheltered area of Bangsar that has escaped the attention of the masses. If you're looking for a location to dine away from the hectic city center, then this is the place for you. The restaurant is dimly lit and has white furnishing with a spot of red here and there – the colors of love. Seafood lovers will be delighted with the Opus Special Seafood Antipasti Platter, Opus Famous Shellfish Surprise and Spaghetti Ala Opus. The Roasted Cod – which Opus claims to be their customer's favourite – is particularly stellar with an amazing smooth and creamy taste and texture perfectly complemented with white wine sauce. Meanwhile, Chocolate Desire will be the perfect choice to end the night – a molten lava cake served with a scoop of vanilla ice-cream that would leave you lusting for more.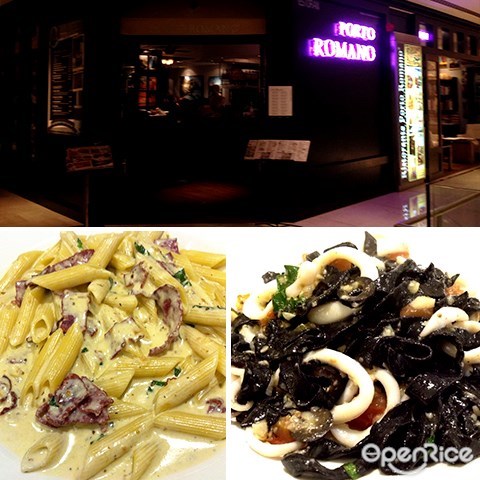 Incepted in 2005,
Porto Romano
is a charming Mediterranean restaurant named after an ancient Roman port in present day Albania. All three of its outlets are cozy, dimly-lit and furnished in white. With Mediterranean cuisine, do expect bold flavours and bounties of the sea to dominate the menu. Its forte lies in its pastas and pizzas, of which we would recommend the Pizza Pesto and Chicken, Squid Ink Pasta and Spaghetti Porto Romano. Also a must-try is the greek rendition of lasagna called Mousakka. A melting mount of layered with cheese, aubergine and lamb mince that is an explosion of taste. Tiramisu is also a good bet on the dessert menu.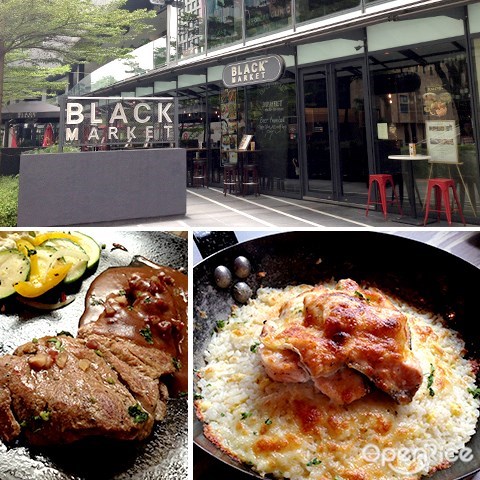 As its name implies,
Black Market's
interior is dark, sophisticated yet with a touch of elegance. When night comes, Black Market's allure seem to grow with its handsome furnishing adding a touch of dangerous sex appeal. The menu here seems to be a combination of both East and West. For starters, the Jamon Platter bearing cold cuts and chorizos is the perfect tastebud-teaser. For mains, the hogs seem to be on top of the race with Iberico Pork Ribs, Big "S" Pork Ribs and Grilled Pork Shoulder with red wine sauce being amongst the recommended dishes. And of course, the name itself implies that this one is a must try – The Five Star Truffle Egg Linguine – each strand of the al-dante pasta was smooth and fragrant.
Discover more best italian restaurant
Find out more top western variety restaurant