Opened its door to the public in 2011,
Publika Shopping Gallery
has successfully positioned themselves as a one-stop destination for good food and nice coffee. In this shopping mall and the commercial area surrounding the mall, you can easily find more than 80 restaurants and cafés that offer almost all kinds of food and beverage. However, the food scene in this mall and its surrounding area is also changing very rapidly. Some old restaurants have closed, giving way to newer and fancier restaurants with creative concepts.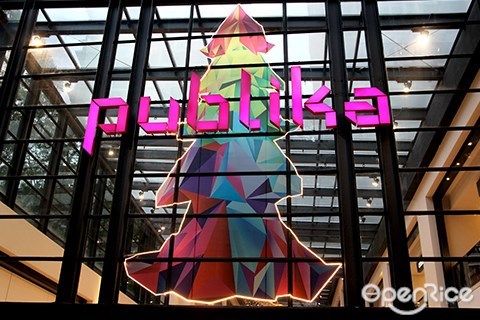 Let OpenRice bring you to explore 10 new restaurants in Publika that worth your attention:
(The restaurants below are arranged in no particular order. Some of the establishments are not halal.)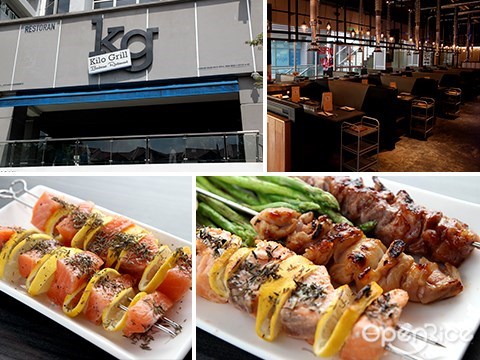 Founded by 2 young entrepreneurs,
Kilo Grill
(or KG) is a BBQ restaurant located on the first floor above Ante Kitchen. It is also one of very few restaurants in Publika that opens until midnight at 3am. A wide variety of barbecue sets are available, including pork, lamb, chicken, sausage and seafood set. Each set comes with 2 choices of vegetables, which are conveniently served on a conveyer belt. Customers can enjoy the fun of barbecuing their own food using charcoal fire. KG has recently launched a new menu of BBQ skewers to cater to late night crowd.
This new Japanese restaurant is a haven for sushi lovers, as they offer as many as 120 types of sushi! Customers can choose from 12 different types of seafood, including mackerel, cuttlefish, amberjack, seabass, scallop, shrimp, etc. Each type of seafood is made into 10 different sushi by using different toppings or preparation methods. All you need to do is write down the code of the sushi that you like, and the kitchen will prepare a plate of nicely presented sushi combination that is customized to suit your taste-buds.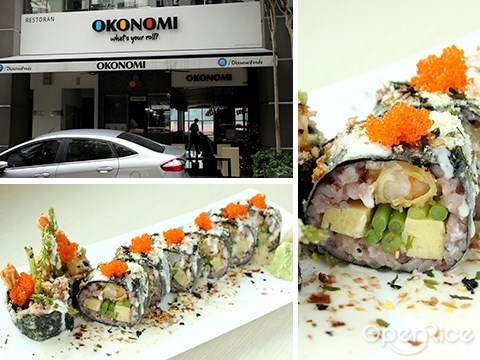 Meaning "as you like it" in Japanese,
Okonomi
is the first Japanese restaurant in Malaysia that allows customers to custom-make their own sushi rolls. You just need to follow 3 simple steps to make your own sushi roll. First, choose the base of your sushi, including the type of rice and wrapping that you prefer. Second, choose your favorite fillings, including fruit, vegetables, seafood and some premium fillings. Third, select your favorite sauce or topping. What's more, you can choose to tempurize the whole sushi roll (maki) to make it crispy!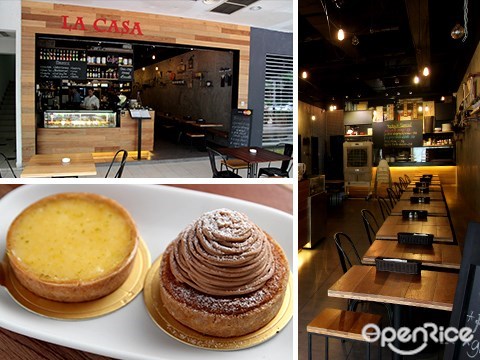 Originally located at Desa Park City,
La Casa
is reopened at Publika, offering the same Western dishes that are popular among its patrons. Designed in rustic style with cement wall and wooden furniture, the restaurant's interior exudes a warm and inviting ambiance. Many regulars come here for brunch, as their extensive menu features a good selection of breakfast from 10am until 2pm. Some not-to-be-missed breakfasts here include Ultimate Big Breakfast, Egg Benedict, and One Pan Breakfast.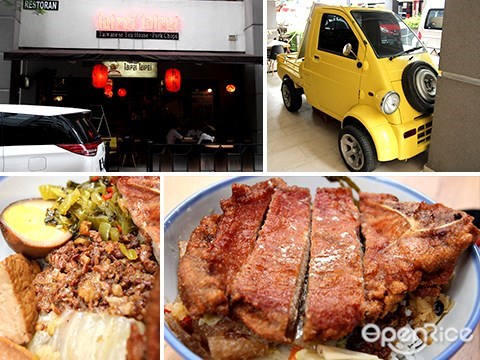 Founded by a Taiwanese,
Taipei Taipei
is a chain restaurant specializing in authentic Taiwanese Cuisine. The restaurant's interior is nicely decorated in vintage style with a touch of traditional Chinese ornaments. The menu consists of a wide variety of popular Taiwanese dishes, such as Pork Chop Rice, Stewed Pork Rice, "Three Cups Chicken" Rice and Dan Dan Noodles. The Pork Chop Rice is a must-try. It is served with lots of ingredients, including vegetables, stewed beancurd, stewed egg, minced meat and a big piece of marinated pork chop that is crispy on the outside and juicy on the inside.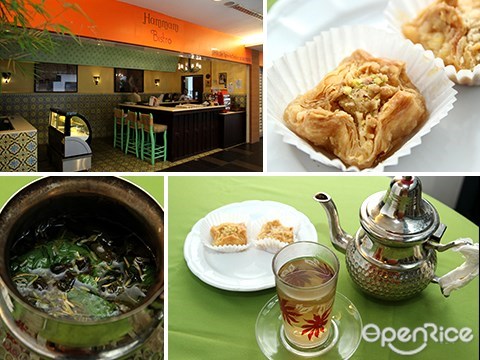 Quietly hidden on the fourth floor,
Hammam Tearoom
is probably the only café in town that offers authentic Moroccan dishes and tea. The café is linked with a spa under the same name. After enjoying a message, customers can come to this tearoom to chill out and enjoy a cup of Moroccan Mint Tea. The tea is made using a mixture of imported spices and herbs that gives the tea a sweet and aromatic flavour. If you are new to Moroccan food, try their specialty Tagine Poulet Au Citron, which is a delicious chicken dish that is prepared using a special clay pot called Tagine.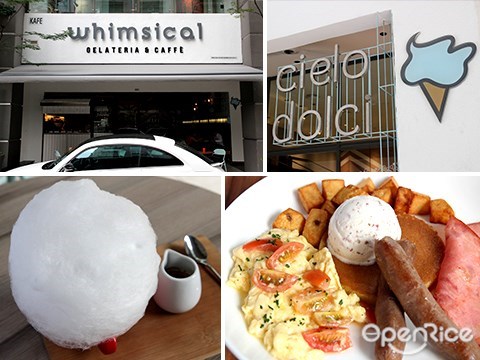 Whimsical
has gained a lot of attention on social media ever since it is opened in June early this year, mainly due to their cute and special Cotton Candy Affogato. The affogato is served with a small cup of espresso and a cup of coconut and gula melaka gelato topped with a mountain of freshly made cotton candy. Enjoy the fun of pouring the espresso into the cup to melt the cotton candy and add some sweetness to the espresso. Many items on the menu are mixed with Cielo Dolci's gelatos. Rise and Shine, for example, is a breakfast served with beef bacon gelato!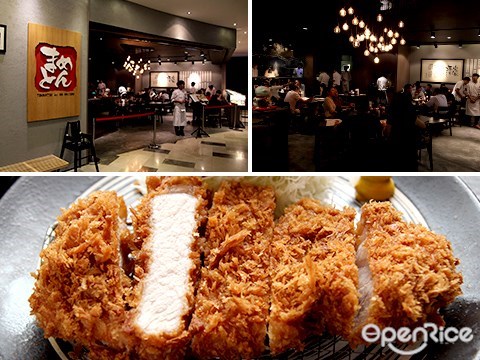 Opened in February this year,
Tonkatsu by Ma Maison
at Publika is the second outlet in Malaysia. Currently, they have 16 outlets in Japan and 5 outlets in Singapore. As the name of the restaurant suggests, they specialize in tonkatsu, which is a popular dish in Japan with breaded deep-fried pork cutlet paired with shredded cabbage. The pork cutlet is prepared using high quality fillet or loin and deep-fried to perfection with crispy breaded skin and tender meat. A set meal comes with rice, soup, and cabbage. All side dishes are refillable.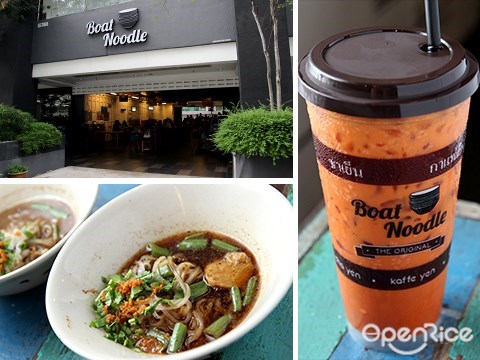 There are 2 newly opened boat noodle restaurants in Publika. If you're looking for the original one from Empire Damansara, head to this shop located at a secluded area beside Morganfield's. Now they have more items on the menu, and the portion of each bowl of boat noodles is slightly bigger too. Apart from their signature boat noodles, customers can also whet their appetites with delicious Thai street snacks, such as beef balls, chicken balls, and chicken wings. What's more, you can wash them all down with the newly launched Cha-Yen (Thai Iced Tea) or Kaffe Yen (Thai Iced Coffee).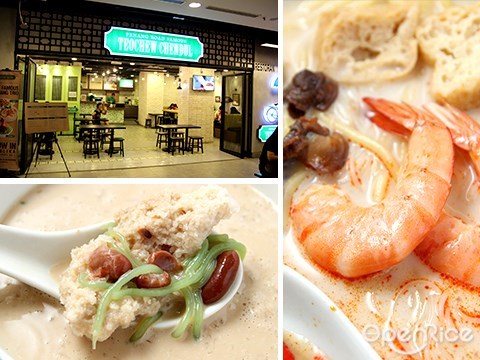 The famous
Teochew Chendul
stall at Penang Road has evolved into a chain restaurant with many new outlets that are opened at shopping malls all over peninsular Malaysia. Located at the food court of Publika, the outlet offers not only cendol, but also a few popular Penang street food, such as Assam Laksa, Rojak and Penang Curry Mee. The cendol is good with santan and gula melaka that is just right, not too sweet. To make the cendol even more tantalizing, you can choose to add some extra toppings, such as durian, cempedak, or ice cream. Next time when you visit Publika, remember to give these new restaurants a try!
Hunt for the top sushi
Discover more Taiwanese Foods in KL & PJ
Other Related Topics