Hanbing Korean Dessert Café is often many people's favourite go-to place when it comes to frozen dessert, but in fact, this café offers a more diversified variety than you imagined! Here we are introducing the 10 facts about Hanbing Korean Dessert Café that will surely make you fall in love with it, you better watch out!
1) Fluffy Korean Snow Ice That'll Remind You of Your First Love
The King Durian Snow Ice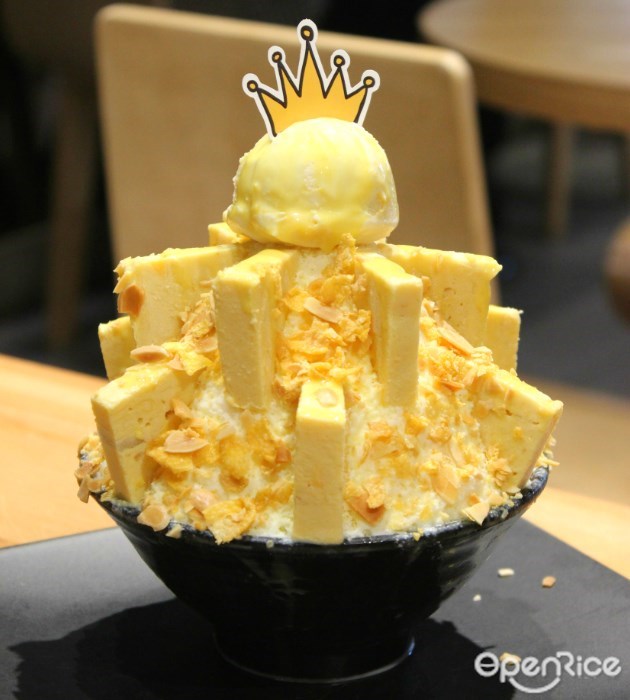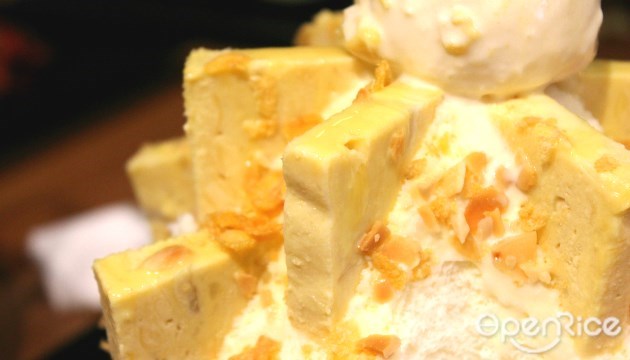 Love at first bite is best to describe how most of the people started to love durian. It's like love at first sight, once you're hooked, there's no going back! The King Durian Snow Ice is one of the most well-received seasonal frozen dessert in Hanbing – generous portions of frozen Musang King durian is used in complementing the fluffy snow ice, every bite tastes like heaven, simply too good to be true!
Strawberry Cheese Snow Ice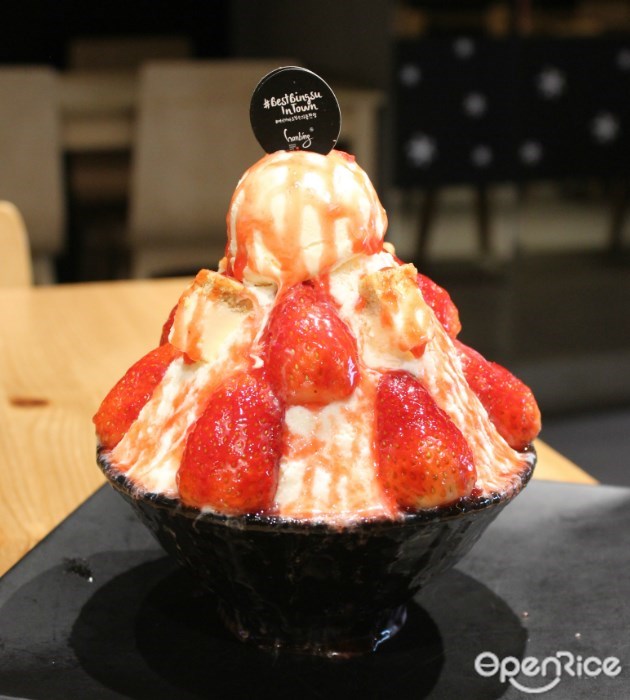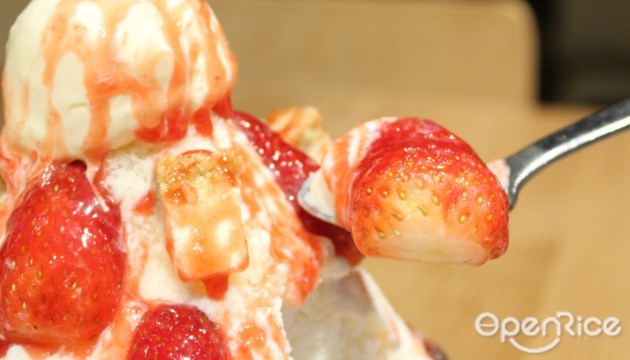 Strawberry Cheese Snow Ice is another popular delicacy of Hanbing that's worth recommending – sweet and tangy strawberry taste copes perfectly well with the creamy and fluffy cheesecake cubes, the snow ice is so soft and smooth that it actually melts in your mouth right away!
Blueberry Cheese Snow Ice & Green Tea Snow Ice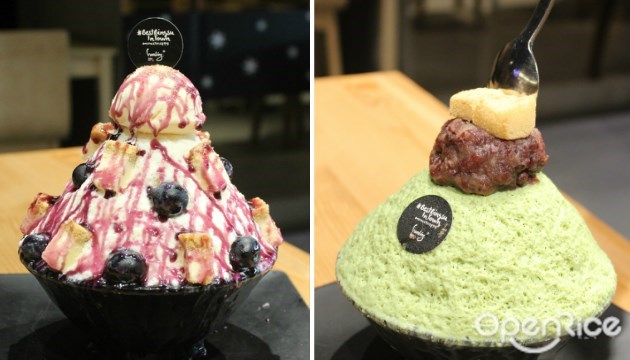 Not forgetting Blueberry Cheese Snow Ice and Green Tea Snow Ice that are close to becoming the representative desserts of Hanbing due to overwhelming responses by patrons! Just remember that you can always count on Hanbing for a decent frozen treat. *smirk*
2) Topokki Served Piping Hot – Watch It Being Cooked!
Table Cooked Topokki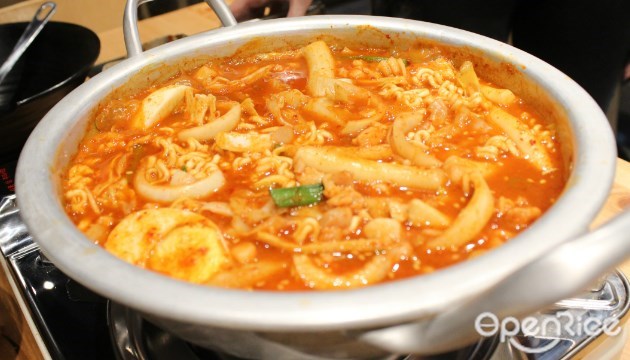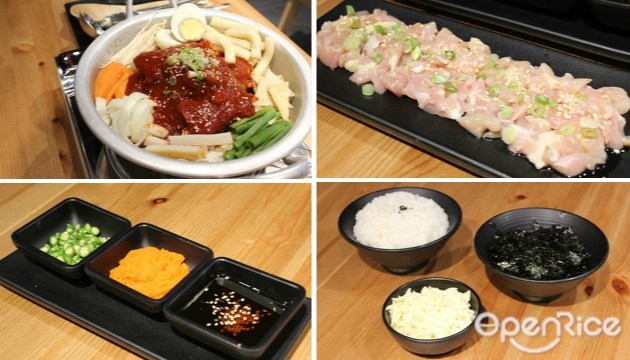 It's always an exciting job to watch your favourite food being prepared and cooked right in front of you. Hanbing serves Table Cooked Topokki that's sufficient for 3-4 pax, which is a really great option for sharing! Aside from the star ingredient Korean rice cake, other complementary ingredients like Korean ramen, fish cake, cabbage, hard-boiled egg and onion are added to complete this plentiful pot of Topokki dish. Add-ons like beef, dumpling, fish roe and cheese are available too, if you're keen to make your pot of Topokki even more abundant. Flavoursome and belly-warming, how could you resist this?
3) Nothing Goes To Waste, Not Even A Single Drop Of Gravy

!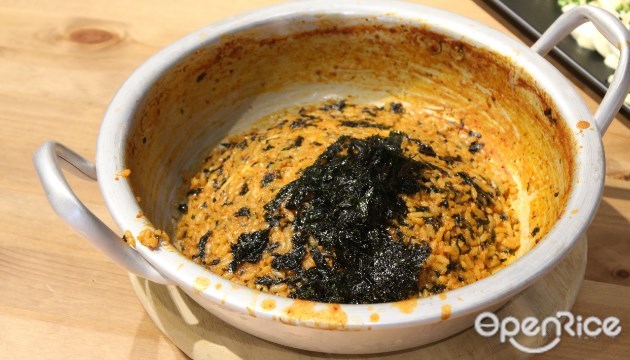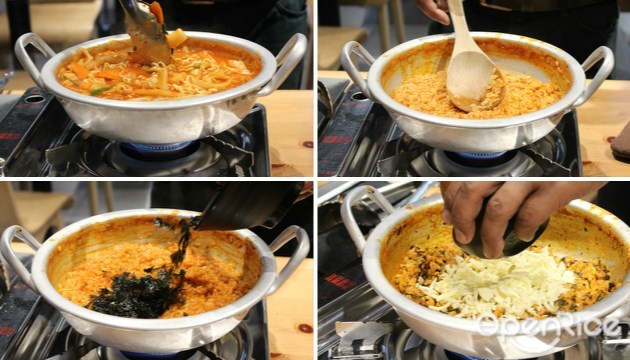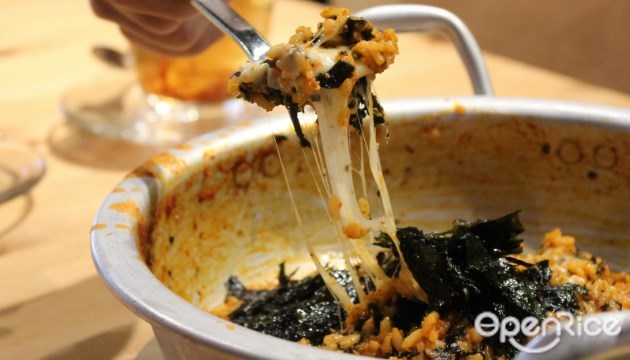 One thing that we really love about Korean food is the awesome 'after' dish. We highly recommended you to try out Hanbing's

Fish Roe Seaweed Fried Rice

– cooked with the remaining gravy of Table Cooked Topokki together with fresh fish roe and crunchy seaweed, cheese is then added into the fried rice to enrich the taste – spicy, cheesy and absolutely appetizing, the best bet indeed.
4) "Cheese No Need Money Ahh?" Kind of Dish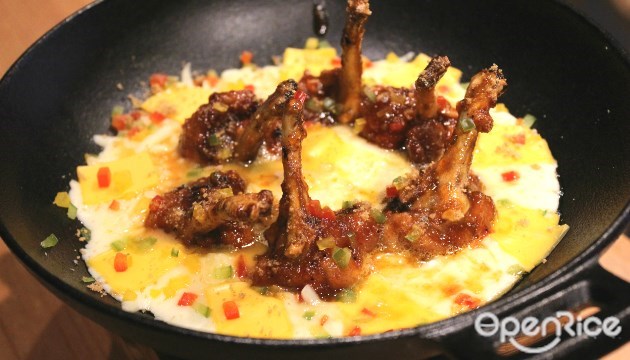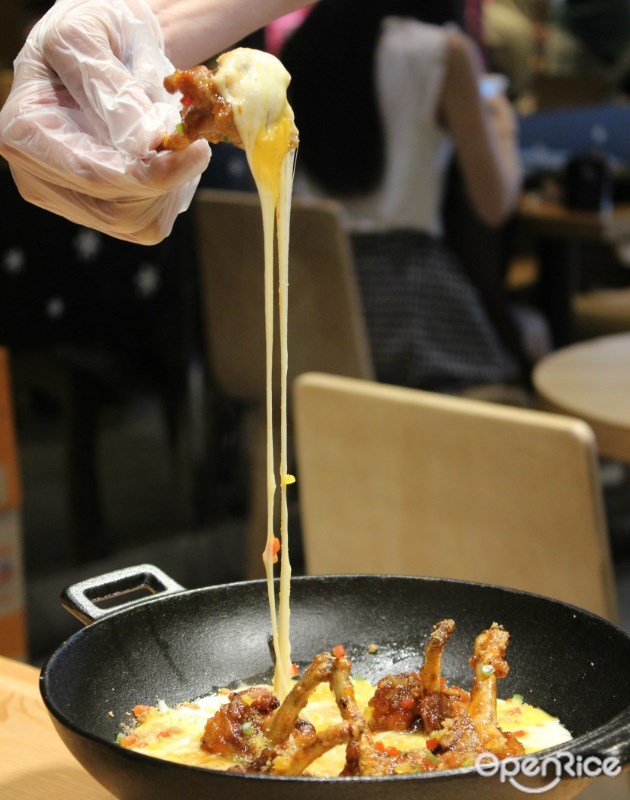 Hanbing doesn't do

Spicy Chicken Drummetes

the way we expected, in fact, they surprised us with another mouth-watering cheesy scene by serving the Spicy Chicken Drummetes on a bed of sizzling melty cheese! The chicken drummetes are done perfectly with a delightfully piquant flavour that blends so well with the melty cheese – what a pleasure for the taste buds.
5) The K-food Trendsetter – Korean Fried Chicken!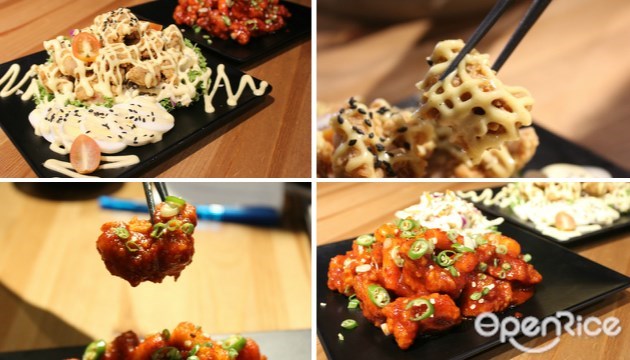 Hanbing is never going to fall behind, so you can definitely expect seeing the k-food trendsetter, Korean Fried Chicken on the menu. Fried chicken can sometimes be a tad bland, but Hanbing nailed it completely by adding different sauces and dressings to complement the crispy fried chicken chunks. Korean Chicken Salad tastes sweet and tangy while Korean Spicy Chicken is spicy and zesty – your choice!
6) Hands Down, The Best Kimchi Pancake in Town.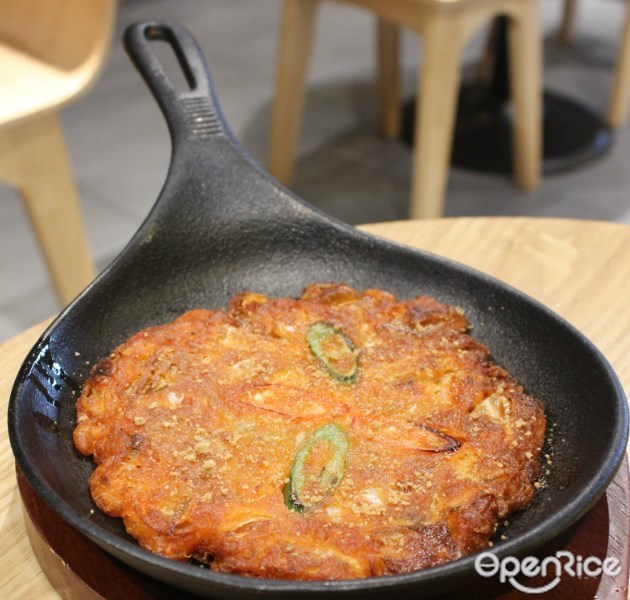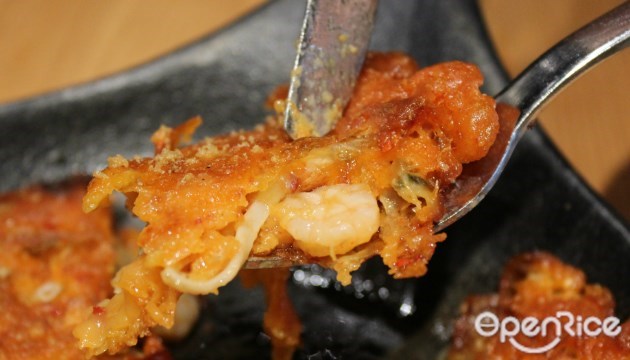 Kimchi Pancake is the timeless classic dish that never dies – crispy on the outside, lightly chewy on the inside, plus the well-fermented kimchi that added a delightful pungent flavour and juicy texture to the dish, a masterpiece done right!
7) Sometimes A Slight Creative Twist Can Make A Big Differenc
e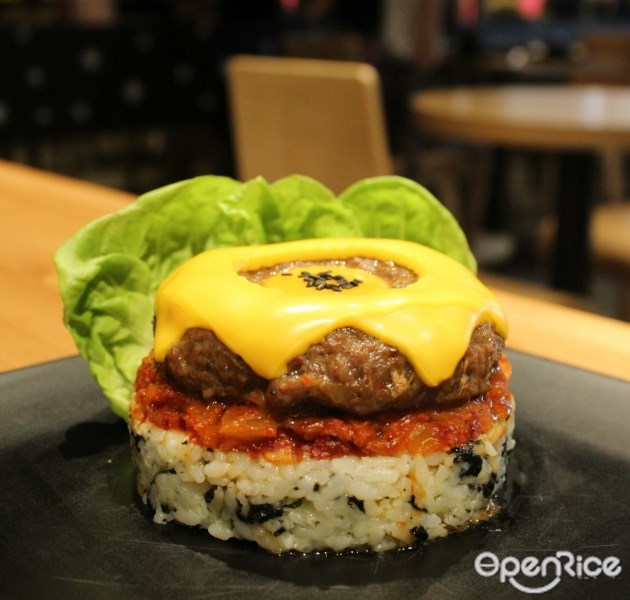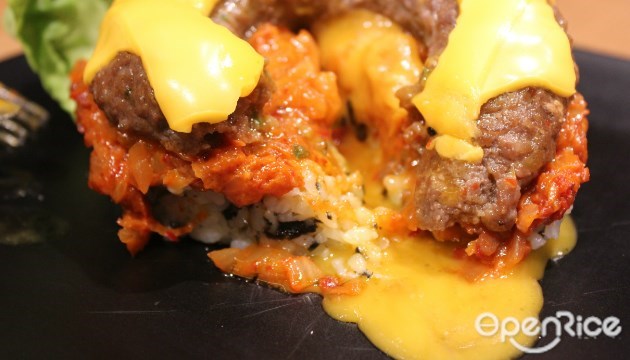 Bulgogi Rice is nothing new and special to all of us, so does hamburger – but what about a rice burger? In Hanbing, fragrant seaweed rice is compacted into a disc shape to replace the burger bun, topped with kimchi, succulent beef patty, egg yolk and cheese, this

Bulgogi Bap Burger

is ready to impress you with its great taste.
8) The Yum Box Is So 'Fun' To Eat!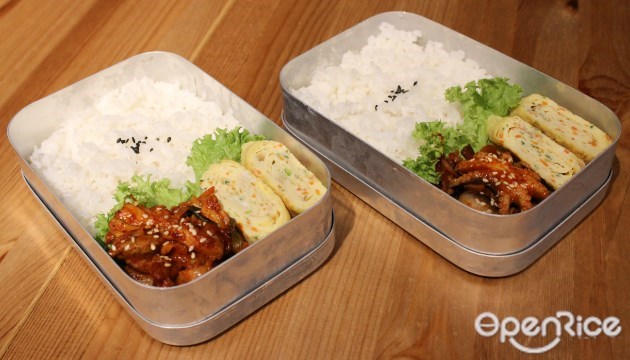 It is always fun to enjoy a Korean lunch box – shake it up before you start eating to get all of the ingredients mixed well with the rice. Hanbing's Yum Box series have 3 flavours for you to choose from, including grilled marinated beef, spicy stir fry chicken and spicy octopus. Here's a tip: you may want to cut the ingredients into smaller pieces if you want them to be mixed more evenly.
9) You Never Know Topokki Can Be Done This Way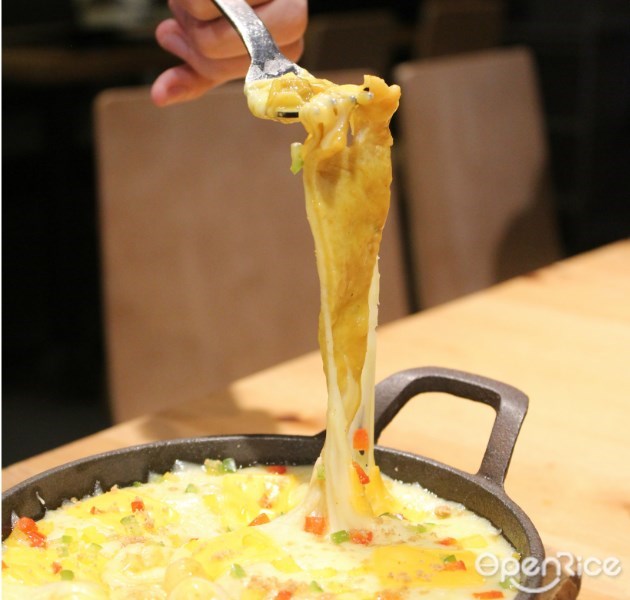 If you find the spicy topokki to be too mainstream, why not trying out this Cheesy Curry Baked Topokki offered by Hanbing? Savoury, cheesy and rich in flavours, we're sure this is 'that one dish' that'll keep you coming back for more.
10) Belly-Warming Korean Tea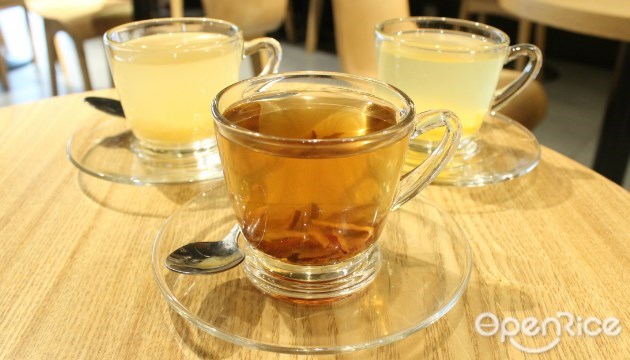 Hanbing offers a wide selection of Korean Tea, ranging from Citron Tea to

Jujube Tea and Ginger Tea

. These refreshing teas would be your perfect picks to wash down the feast.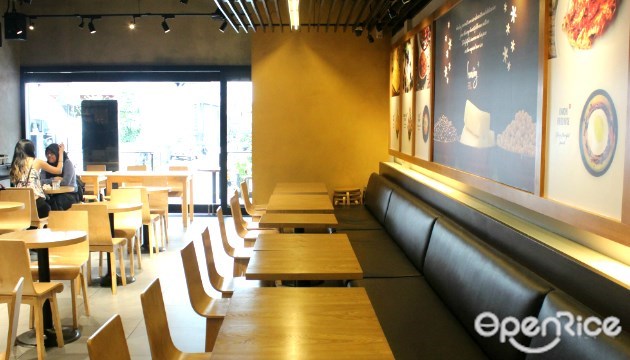 Hanbing Korean Dessert Café