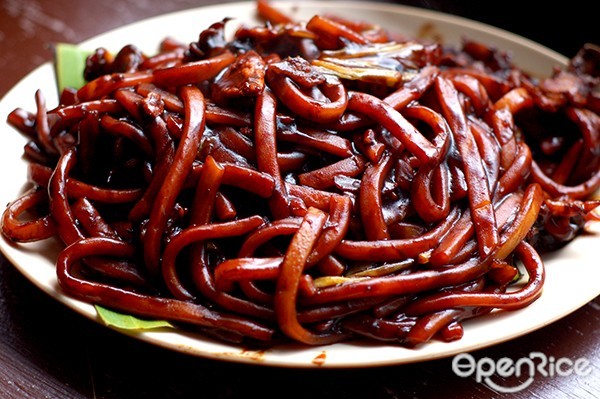 Fried Hokkien Mee
is believed to be invented by Ong Kim Lian, the owner of the now famous Kim Lian Kee at Petaling Street, in
1927
. Today, this Chinese cuisine has become so popular that it can be found at almost any
dai chao
restaurant. Lovers of fried Hokkien Mee would agree with me that the best Hokkien Mee has to be stir-fried with charcoal fire. Luckily, we can still find plenty of good restaurants offering charcoal fried Hokkien Mee in the KL & PJ. Some restaurants have even opened new and modern outlets at shopping mall food courts to cater to a younger crowd. Here are 10 best fried Hokkien Mee restaurants in KL and PJ!
(The restaurants are listed in no particular order. Some of the establishments below are not halal.)
1. Kim Lian Kee @ KL Chinatown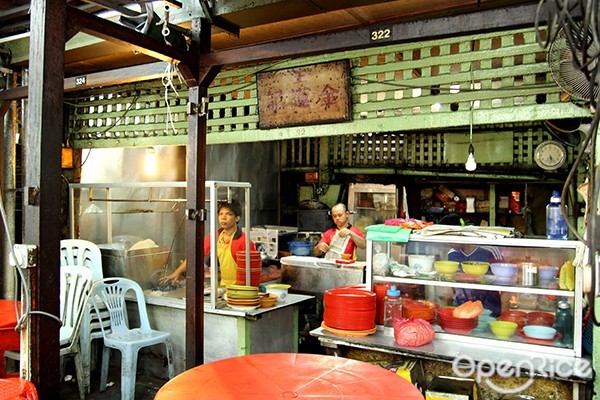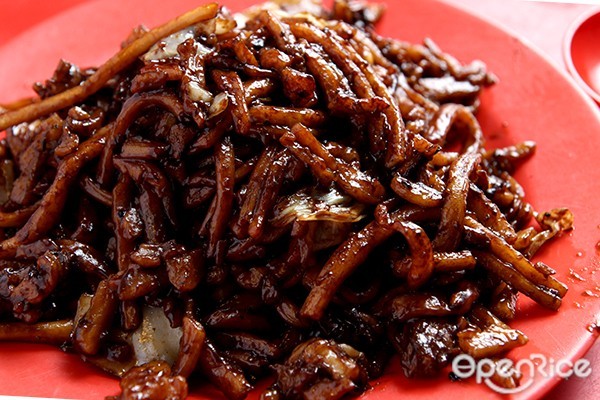 Kim Lian Kee
is the oldest Hokkien Mee restaurant in KL with over 80 years of history! It is the best Hokkien Mee and famed for being the birth place of fried Hokkien Mee. Chinatown alone has two Kim Lian Kee restaurants located at the crossroad of Petaling Street. If you are looking for one of the best traditional charcoal fried Hokkien Mee, head to the old stall located opposite Hong Leong Bank. It is only open at night, and you can see how the noodles are stir-fried by chefs using a big wok. Kim Lian Kee's famous Hokkien Mee is drenched in thick and black gravy and topped with crispy fried pork lard.
2. Lian Bee @ KL Chinatown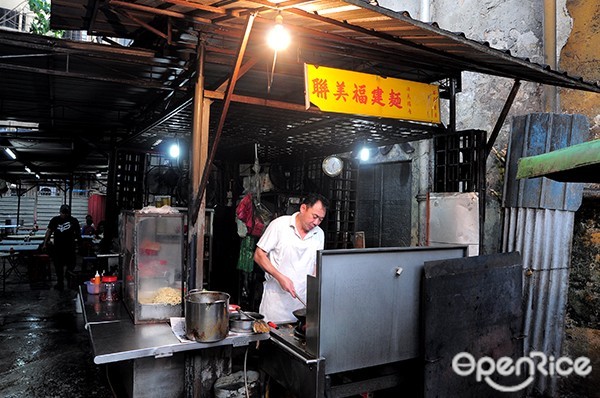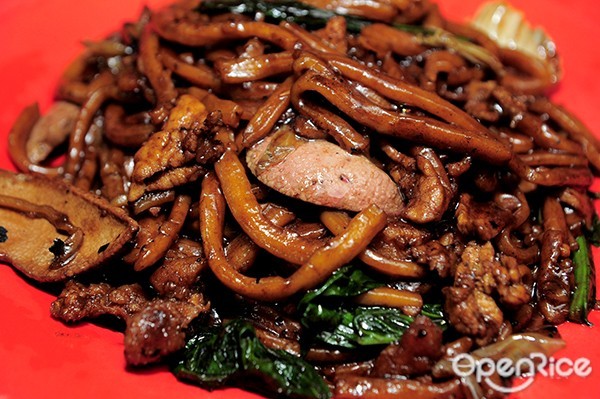 Lian Bee
is another old Hokkien Mee stall located in Chinatown. Finding the exact location of Lian Bee can be quite a challenge, as it is hidden in a back alley near Lai Foong Kopitiam. The stall is now run by the third generation, who insists on stir-frying the noodles with charcoal fire. Their mouth-watering Hokkien Mee has a unique "burnt" smell, because the flat noodles are stir-fried using strong charcoal fire. Aside from Hokkien Mee, Lian Bee's Pork Meat Soup is also one of the best in town.
3. Aik Yuen @ Setapak, KL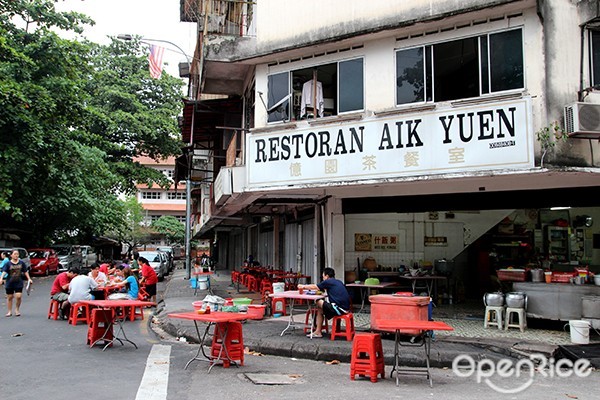 Regarded by many as the best fried Hokkien Mee in KL, the hawker stall is located at
Aik Yuen Kopitiam
behind the famous Tawakal Hospital. Hence, the stall is also known as Tawakal Hokkien Mee. After placing an order, expect to wait for about half an hour before your noodles are served, because the place is always packed with customers, and it takes time to prepare a plate of delicious Hokkien Mee using charcoal fire. Their fried Hokkien Mee is always served piping hot with meltingly soft flat noodles and aromatic pork lards.
4. Setapak Teochew @ Setapak, KL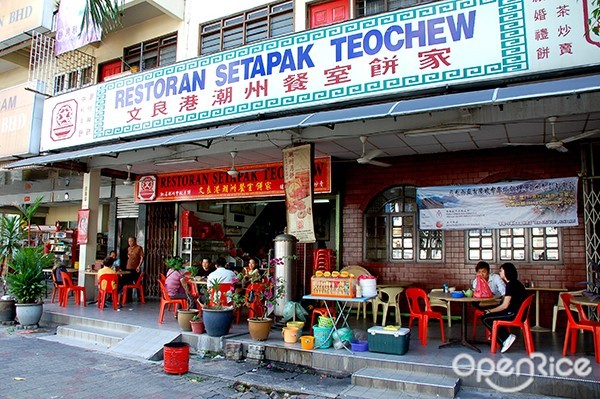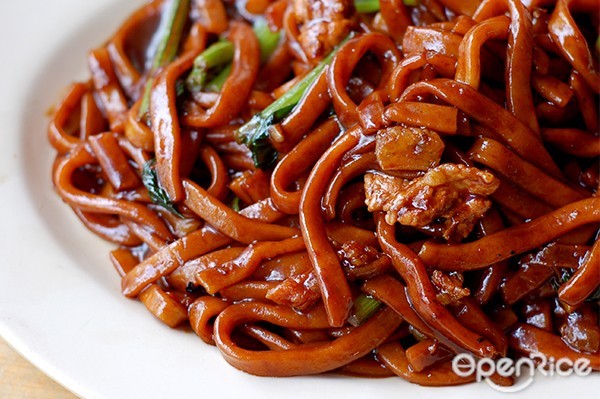 A traditional Teow Chew biscuit restaurant that has been around for more than a century! Apart from their famous traditional Teow Chew pastries, the restaurant also offers delicious Hokkien Mee prepared using homemade flat noodles. Their noodles are freshly handmade in traditional style using a long bamboo cane. The taste of their Hokkien Mee is superb, because the noodles are fresh and free from any alkaline taste (kansui). Also delicious is their Teochew Fishball Soup and Steamed Pomfret Fish with Mee Hoon.
5. Sentul Ah Yap @ Sentul, KL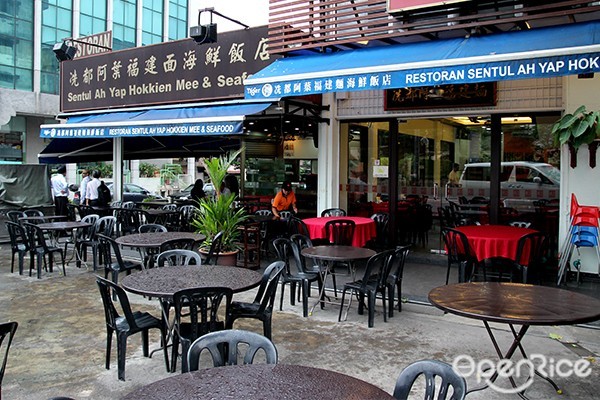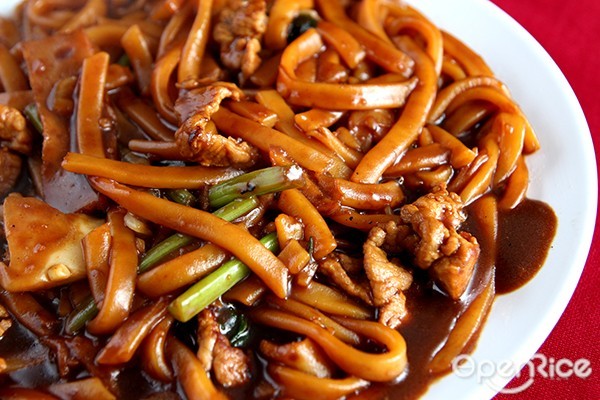 The half-a-century old brand of
Sentul Ah Yap
is getting more and more popular in recent years, as the restaurant has opened many new outlets at shopping mall food courts, including Sungei Wang, Publika, and Avenue K. Even in food courts, Sentul Ah Yap insists on preparing all Hokkien Mee using charcoal fire to ensure the noodles are delicious and full of wok hei when served. The success of Sentul Ah Yap is so well-known that their story has once been adapted into a local TV drama called
Romantic Delicacies
.
6. Mun Wah @ Maharajalela, KL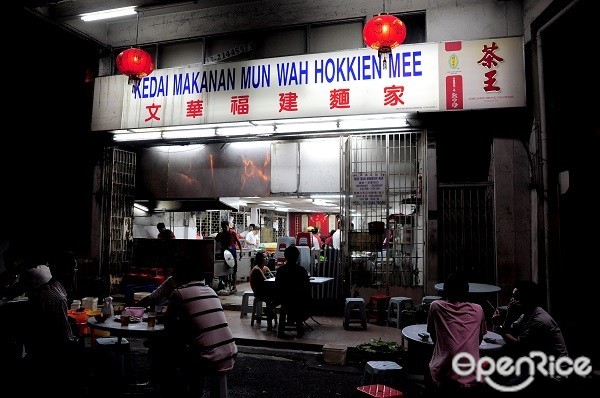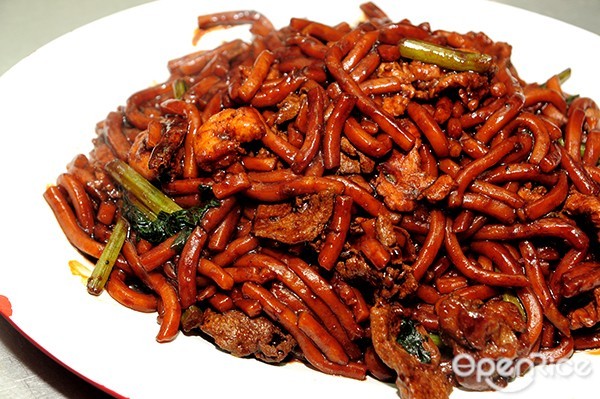 Mun Wah
is one of the oldest Hokkien Mee restaurants in Chinatown area. It is located at a shop lot that is not far from Maharajalela Monorail station. At night, regulars started to gather at the restaurant to satisfy their cravings for delicious charcoal fried Hokkien Mee. The noodles here are stir-fried by a seasoned chef who has more than twenty years of experience in the industry. Their Hokkien Mee is served with thick and brown gravy rich in the fragrance of fried pork lard.
7. Ming Hoe @ Jalan Ipoh, KL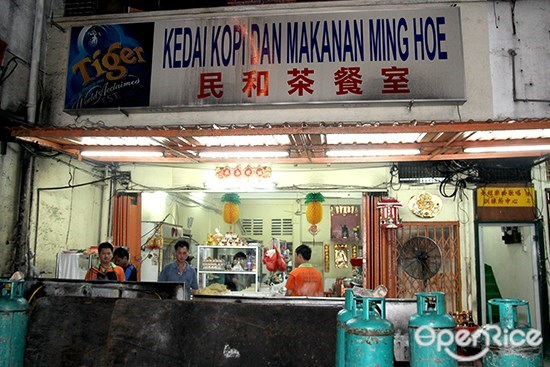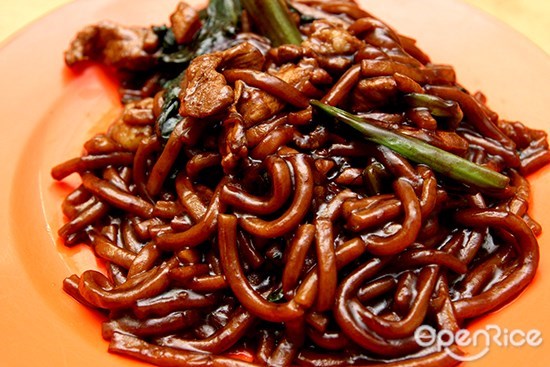 Ask anyone for the best Hokkien Mee at Jalan Ipoh, they will certainly point you to
Ming Hoe
. Unlike most of the Hokkien Mee stalls in KL that are only open at night, Ming Hoe operates all day long from 12pm till late. The shop has been around for more than 2 decades. Their signature fried Hokkien Mee is stir-fried using high-quality flat noodles that are soft and free from any unpleasant alkali taste. In addition to Hokkien Mee, Ming Hoe's golden-brown fried fish cake is also extremely popular among patrons.
8. Ah Wah @ Taman Paramount, PJ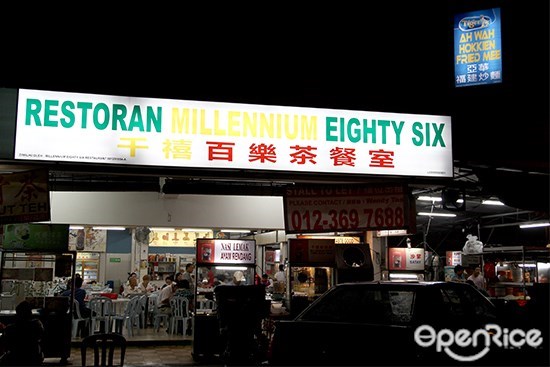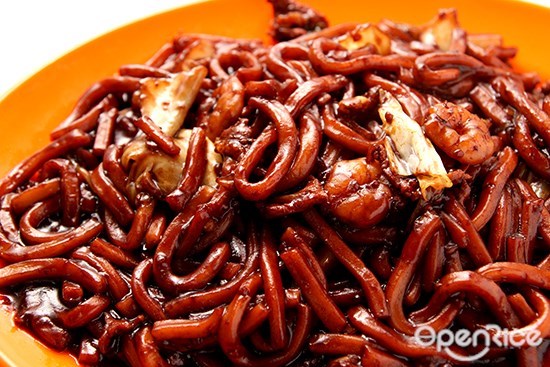 Many good fried Hokkien Mee restaurants and stalls can be found in Petaling Jaya, and one of the oldest and most famous stall in PJ is
Ah Wah
located at Taman Paramount. Ah Wah is the main chef who has been stir-frying Hokkien Mee for more than 40 years since his early twenties! Until now he is still using strong charcoal fire to stir-fry every single plate of Hokkien Mee to infuse a strong and fragrant taste to the noodles. Their Hokkien Mee is quite oily with lots of deep-fried pork lard thrown in.
9. Damansara Uptown Hokkien Mee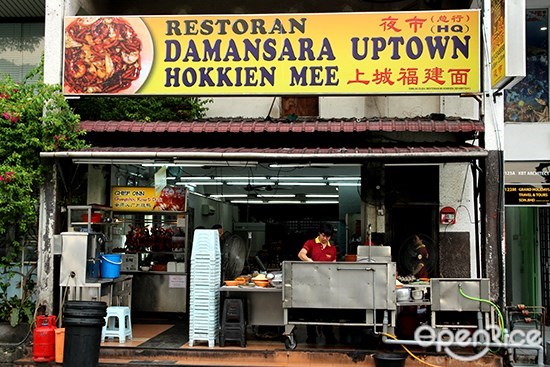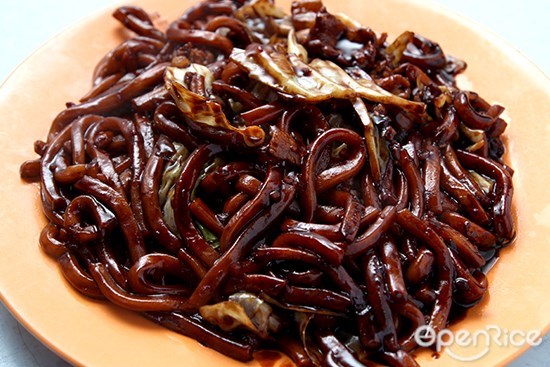 If you are looking for the best Hokkien Mee in PJ, a must-visit place is
Damansara Uptown
, where you can find 3 popular Hokkien Mee restaurants. Among them the most famous one is probably Damansara Uptown Hokkien Mee, which offers both indoor and outdoor dining area. At night, the place is often packed with diners who are craving for their signature fried Hokkien Mee with slippery flat noodles drenched in oily dark sauce rich in pork flavors.
10. Tiong Hokkien Mee @ Uptown, PJ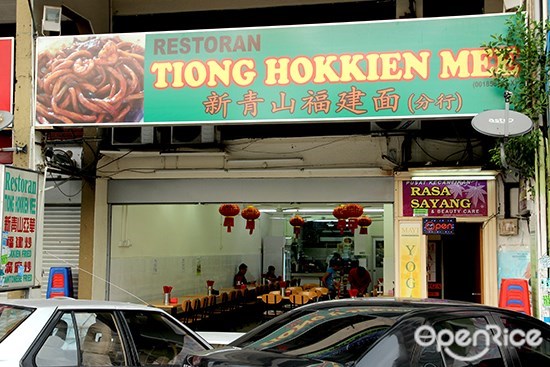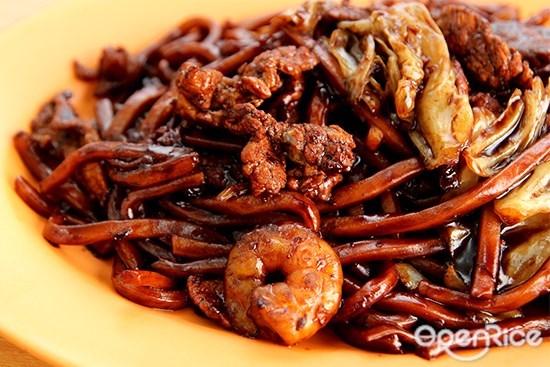 Another well-known Hokkien Mee restaurant located on the same row with Damansara Uptown Hokkien Mee. At night, additional tables will be added outside, so that customers can choose to dine indoor or outdoor. Their version of Hokkien Mee is slightly drier than normal, yet the noodles are soft and springy with sufficient "wok hei". They stir-fry the flat noodles with cabbage instead of "choy sum" to add a crunchier texture to the taste. If you love fried Hokkien Mee as much as I do, remember to pay a visit to all of them to enjoy the best fried Hokkien Mee in town!
Find out more best hokkien mee restaurant
Discover more hottest petaling street restaurant
Other Related Topics