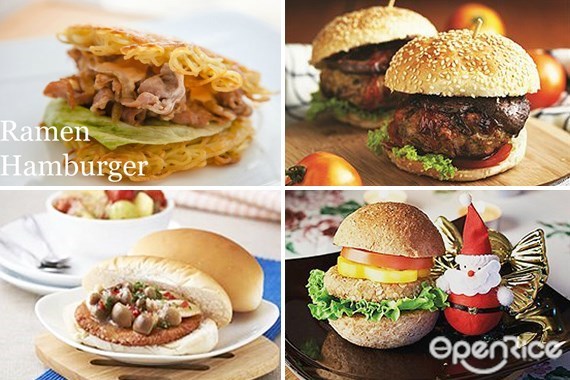 小编突然好想吃汉堡,要去McDonald呢?还是McDonald?不管怎样还是McDonald,小编都吃腻了啦!幸好还有Burger King和Ramli Burger,可是没多久又会吃腻啊!所以小编整理了以下的汉堡食谱,让吃腻的食客们一起动手做吧!
1. 纽约拉面汉堡|New York Ramen Burger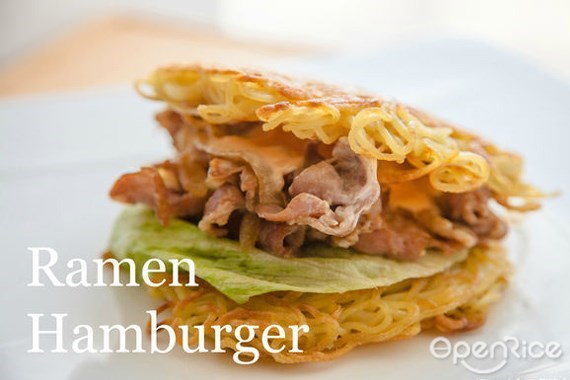 材料:
日本拉面 1包|洋葱 1颗|薄梅花肉片 300g|鸡蛋 1颗|蒜末 1茶匙|姜泥 1茶匙|酱油 2汤匙|糖 1汤匙|清酒 2汤匙|生菜 2片|葱花 适量|千岛辣酱 适量
1 packet ramen noodle|1 onion| 300g pork picnic shoulder slices| 1 egg| 1 tsp minced garlic| 1 tsp ginger paste| 2 tbsp soy sauce| 1 tbsp sugar| 2 tbsp sake| 2 pieces lettuce| Some sliced green onions |Some Thousand Island sauce
1 tbsp mayonnaise|1 tsp tomato sauce|1 tsp chili sauce
3. 在梅花肉片两面撒上砂糖,再加入蒜末、姜泥、酱油和清酒腌20分钟。
5. 将拌好蛋汁的拉面分成两份,各自放入适当尺寸的碗或杯里,再用另外一个杯子将拉面压紧。
7. 在等待拉面煎至香脆的当儿,准备另一个煎锅,加一点油将洋葱丝炒香,再放入腌好的肉片炒熟。
8. 在煎好的拉面上依序放上生菜、猪肉片、千岛辣酱、葱花和另一片拉面就完成了。
1. Slice the onion into shreds.
3. Sprinkle the sugar on pork slices, then add in minced garlic, ginger paste, soy sauce and sake. Marinate for 20 minutes.
4. Cook the ramen and drain the water, add in beaten egg after it has cooled down a bit.
5. Divide the ramen noodle into two portions, and place each half in a small bowl, then press it tightly using another bowl or cup.
6. Pan fry the ramen until crispy.
7. While waiting for the ramen to be done, with another frying pan, stir fry the onion shreds with some oil, add in the marinated pork slices and stir fry them together until the meat is cooked.
8. Lay the fried ramen on a plate then pile it up with lettuce, pork slices, Thousand Island sauce, sliced green onions and another piece of ramen. New York ramen burger is now ready.
2. 马豆汉宝麦包Chick Peas Burger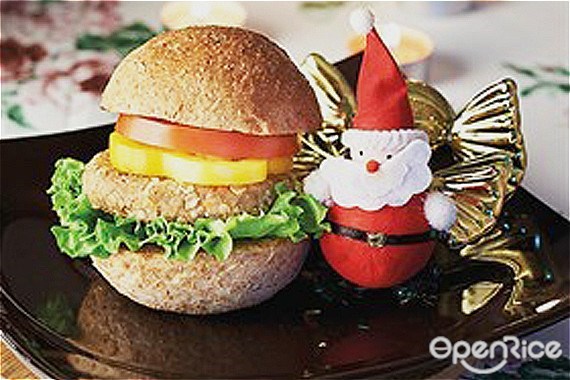 材料A:
麦包 8个|生菜 8片|番茄 2个(切厚片)|黄甜椒 2个(切厚片)
8 Whole meal buns| 8 sprigs lettuce| 2 tomato (cut into thick slices)| 2 yellow capsicums (cut into thick slices)
some tomato sauce, mayonnaise and butter
100g yam|50g chick peas (soaked 6 hours)
香菇蒂 1杯(泡水过夜)|芹菜 50克|红萝卜 70克
Ingredients D:(diced all)
1 cup mushroom stems (soaked over-night)| 50g Chinese celery| 70g carrot
盐 1/4茶匙|桂末粉 1/2茶匙|胡椒粉 1/2茶匙|糖 1茶匙|汀面粉 2大匙
1/4 tsp salt| 1/2 tsp cinnamon powder| 1/2 tsp pepper| 1 tsp sugar| 2 tbsp wheat starch
将芋头蒸熟趁热压成泥,趁热加入芋头调味料拌匀备用。
香菇蒂用搅拌机打碎,揸干水份,加入1/2茶匙盐,1茶匙糖腌20分钟,备用。
烧热3大匙油,爆香腌好的香菇蒂,加入所有材料D炒片刻盛起,加入芋泥和马豆,搓匀,分出8等份,做成汉宝块,沾上适量生粉,用油煎至二面金黄,备用。
麦包对半切开,抹上牛油煎至金黄色,各自抹上材料B后,放入生菜、素汉宝、番茄及甜椒片即成。
1.Mash steam yam whist hot and toss with its seasoning and set aside.
2.Boil chick peas with 1 bowl of water in low heat until cooked;chop coarsely.
3.Blend mushroom stem in blender, squeeze out water and marinate with ½tsp salt and 1 tsp sugar
4.Heat 3 tbsp oil in wok, sauté mushroom stem until fragrant, add in all ingredients D and stir-fry briefly, dish out and mixes with mashed yam and chick peas. Apportion the mixture into 8 equalportion, make like burger patties and coat with some corn flour, sear in hot oil until both sides turns golden brown.
5.Halve buns and spread with butter, sear in pan until golden brown, and then spread with ingredients B, top with lettuce,vegetarian burger, tomato and capsium slices , done.
3. 家多蔬彩汉堡|Homemade Chicken Burgers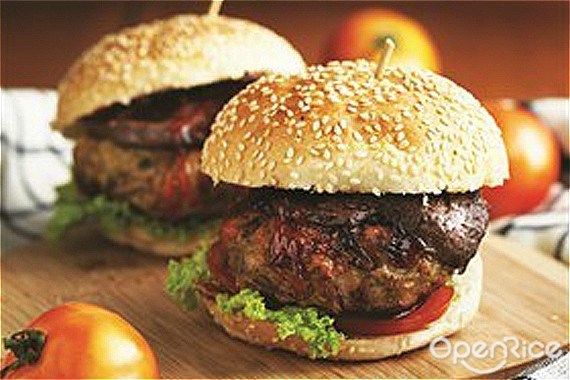 肉饼材料:
鸡肉碎 600克|生粉 1茶匙|丞燕食用调合油 1汤匙|大葱 1粒(剁碎)|干牛至草 2茶匙|芥末 1茶匙| A蛋 1粒(打散)|面包糠 35克|帕美森芝士茸 30克|盐和胡椒粉 适量
Burger patty ingredients:
600 g minced chicken meat| 1 tsp corn flour| 1 tbsp E. Excel Blended Cooking Oil| 1 large onion (finely chopped)| 2 tsp dried oregano|1 tsp Dijon mustard| 1"Grade A" egg (beaten)| 35 g fresh breadcrumbs|30 g grated Parmesan or cheddar cheese |salt and pepper to taste
丞燕食用调合油 适量|番茄 2粒(切片)|青瓜 1条(切片)|芝士 4片(随意)|生菜适量|辣椒酱/ 黑胡椒酱 适量|汉堡面包 6-8个(中间划开,涂牛油,烘烤)
E. Excel Blended Cooking Oil (for pan-frying) |2 tomatoes (sliced)| 1 cucumber (sliced) |4 cheese slices (optional)| some lettuce leaves|chili sauce/black pepper sauce| 6–8 burger buns (split, buttered, and toasted)
希腊优葛 3汤匙|九层塔叶 20克|帕美森芝士 50克|丞燕多蔬彩 2包|丞燕食用调合油 2汤匙|盐 1⁄2 茶匙
E. Excel VegeColor spread:
3 tbsp Greek yogurt|20g basil leaves| 50g Parmesan cheese| 2 sachets E. Excel VegeColor| 2 tbsp E. Excel Blended Cooking Oil| 1⁄2 tsp salt
做成汉堡形状,和面包体积大约相等,重量约135- 150克,收入冰箱冷藏至少30分钟。
热不黏锅,放入少许丞燕食用调合油,然后把肉饼以小火煎至熟,翻转一次便可。
Method of burger patties:
1. Combine all the burger patty ingredients in a bowl. Mix with damp hands.
2. Form into round patties about 135–150 g each. The patties' diameters should be the same size as the buns'. Chill for 30 minutes.
3. Heat a steamer, steam the burger patties on a greased tray for 8 minutes, and remove.
4. Preheat a non-stick pan, add some E. Excel Blended Cooking Oil, and pan-fry the burger patties over low heat until thoroughly cooked, turning once.
在汉堡面包上铺一层生菜,放上肉饼,再叠上番茄和芝士,淋上辣椒酱、番茄酱、黑胡椒酱及丞燕多蔬彩酱即可。
To assemble burgers:
1. Using an electric blender, blend the E. Excel VegeColor spread and set aside.
2. Top one half of each bun with lettuce, a burger patty, tomato, cu¬cumber, a cheese slice, chili/black pepper sauce, and E. Excel VegeColor spread. Serve.
4. 沙律香脆素鸡扒|Mock Chicken Chop with Salad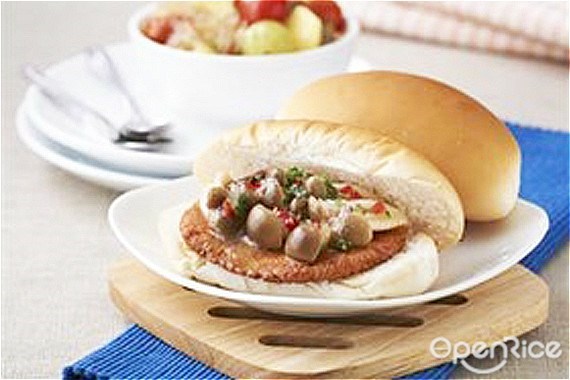 材料:
2 pcs mock chicken chop| 50g Shitake mushroom (blanched)
Some organic vegetables|1 sandwich bun
柚子2块(取肉拔小块)|芒果100克(切丁)|樱桃茄10粒|青葡萄15粒
2 pcs pomelo (obtain flesh)| 100g mango (dice)| 10 pcs cherry tomato| 15 pcs green grape
柚子1块(只取果肉)|柠檬汁1/2粒|西洋芫茜碎少许|红辣椒碎1条|熟芒果100克(压成汁)|黑胡椒粉少许|蜜糖2小匙
1 pc pomelo (flesh only)| 1/2 lemon juice| some chopped parsley| 1 red chili (chopped)| 100g ripe mango (get juice)| dash of black pepper| 2 tsp honey
把全部沙律酱材料放入搅拌机内搅拌成茸。倒入碗内,加入沙律材料拌匀。
面包切半,放上炸好的素鸡扒及鸿禧菇,再淋上适量沙律酱,配沙律享用。
1.Deep fry mock chicken chop until golden brown, drain.
2.Blend all salad dressing ingredients till smooth. Pour on top of salad ingredients.
3.Slice the sandwich bun into half, top with fried mocked chicken and mushroom, sprinkle some salad dressing over, serve with salad.