Johor Bahru
has undergone drastic changes in recent years, as the area has been developing in a rapid pace. We also see the opening of many new cafés and restaurants in JB. Last week, we ventured out into the streets to find 10 cafés within a 10-minute walk from City Square Mall. Have you visited any of them yet?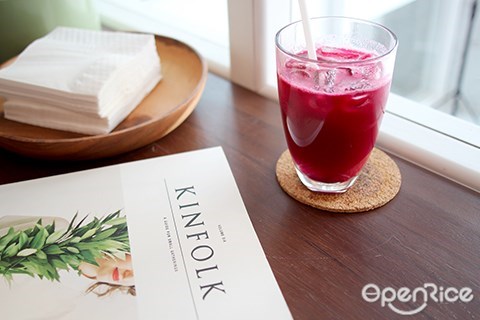 (The restaurants are listed in no particular order. Some of the establishments below are not halal.)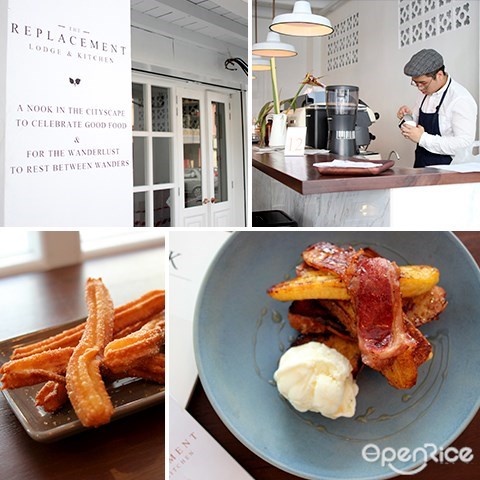 The Replacement – Lodge & Kitchen
is the latest café in Johor Bahru that has gotten everyone talking. With white-washed walls, wooden counter tops and a handful of Kinfolk magazines, every bit of this cafe looks absolutely Instagram-worthy. Their menu features cold-pressed juices, churros and all day brunch. For those into sweet and savoury dishes, we recommend their B&B French Toast, which has caramelized bananas, beef bacon and vanilla ice cream piled on top of a fluffy brioche toast. If you'd like to stay for a night or two, Replacement will be having a lodge on level 2 in the near future!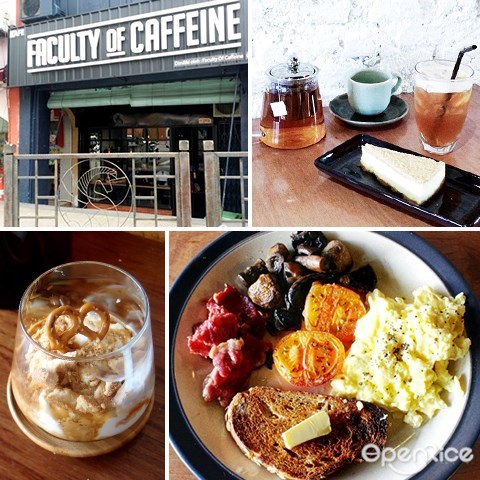 Opened by the same folks behind The Replacement – Lodge & Kitchen,
Faculty of Caffeine
in Johor Bahru boasts a completely different vibe. With dark walls and dim lighting, the café exudes a cozy and homely ambience. With plenty of brunch options to choose from, we decided to go with Sunrise Breakfast which includes toast, 5 minutes eggs, spinach, mini rosti and beef bacon. Brunch aside, what we love from this café is their Salted Caramel Affogato – a shot of expresso topped with vanilla ice cream, drizzled with caramel sauce and finished with butter cookies and sea salt.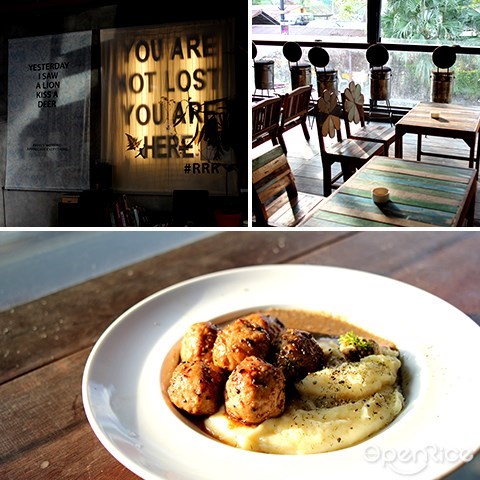 The first modern looking shop house before turning to Jalan Dhoby –
Roost Repurposed & Recycled
– is hard to miss. Just as its name suggests, the café's furniture is constructed by the owners using recycled materials such as paint buckets, clothes hangers and kitchen towel cardboard rolls. Definitely one of the most quirky and out-of-the-ordinary furniture you'll see! They have also recently expanded their salad and yogurt menu to include main dishes such as Mashed Potatoes with Chicken Meatballs.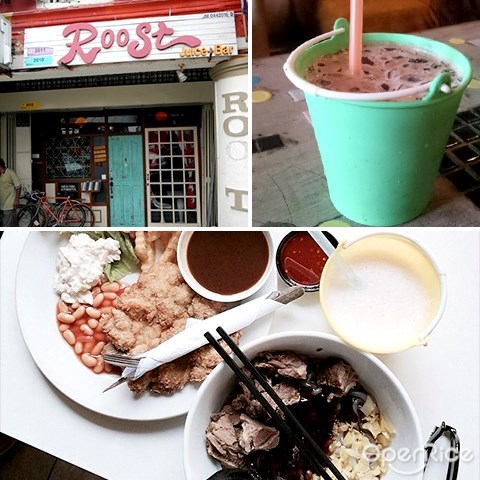 Just two units away from Roost Repurposed & Recycled,
Roost Juice & Bar
is a two-storey vintage-style café in Johor Bahru featuring mismatched furniture, old-school collectibles and toys. Food-wise, we highly recommend the Hainanese Beef Noodles. The generous bowl of thick rice noodles with chunky beef brisket is unlike anything you have tasted in Singapore. They are opened till 12 midnight daily so you can pop a few beers here at really affordable prices.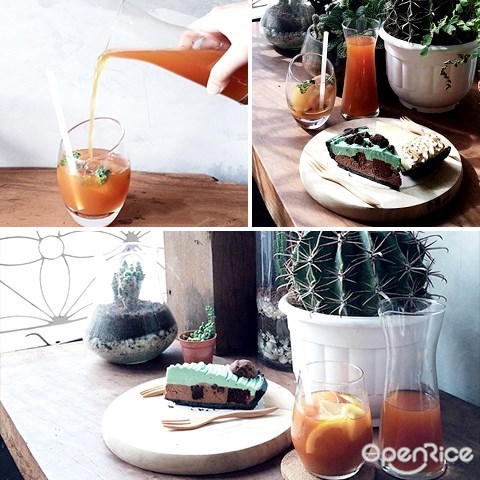 (Image from Bev C's blog)
Founded by designers Beverly Ang and Cally Chin, the first of this shop house is a fashion boutique featuring mostly monochromatic clothing and interesting accessories. The second level, however, is where the fun begins for us. With interior design done by Roost, the same quirkiness flows through. Crisp white shirts are used to decorate the walls and there's even a bed in the café. A popular choice amongst the café-goers was their line of iced drinks. We paired their recommended Chocolate Mint Pie with a very refreshing Ice Lemon Tea.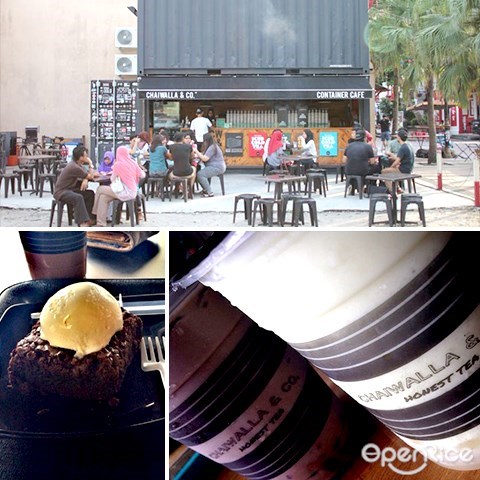 Nobody's going to say no to a cooling cup of tea on a sunny day! Maybe that's why
Chaiwalla & Co
in Johor Bahru is almost always crowded. While the weather was way too humid for us to enjoy lounging outside this container café, all drinks fortunately come in takeaway cups for a grab and go. We settled for a Chai Latte but would have loved to take a seat and savour a brownie or hot tuna puff on cooler days.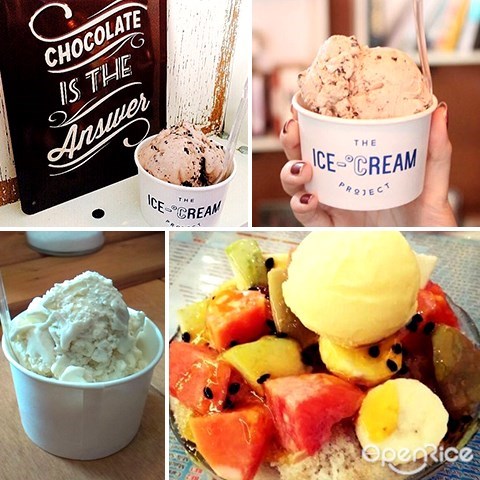 Liquid nitrogen ice cream is nothing new in Singapore but if you're a huge fan of milk, you got to try out
The Ice Cream Project
's homemade ice cream. With only 5 flavours available, we went for the Brownies & Cream. All ice creams are made-to-order, so we were able to witness the rapid freezing process of milk, freshly baked brownies and liquid nitrogen that produces smooth and fine ice cream that is free from crystallization. While waiting for your ice cream to be made, feel free to choose from a huge selection of Gryphon artisan teas available.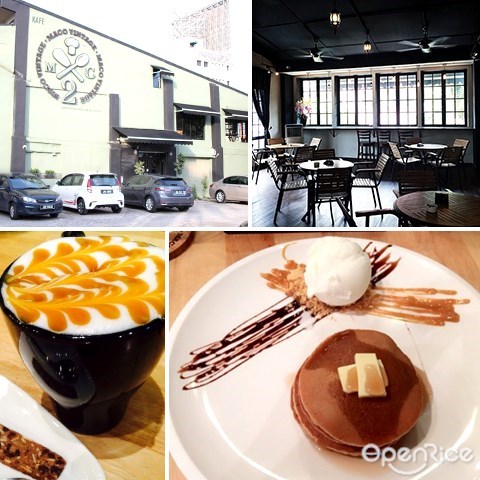 Maco Vintage
is a spacious two-storey contemporary café in Johor Bahru serving an extensive range of mille crepe cakes, pastas and pizzas. The food may not look like much but it took us by surprise when we sank our teeth into the crispy thin crust Chicken Ham & Mushroom Pizza. We also love the Rose Latte paired with the Tiramisu Mille Crepe Cake. Boasting a quiet and unpretentious space that provides free wifi, this café also makes for a great place for those who work on the go.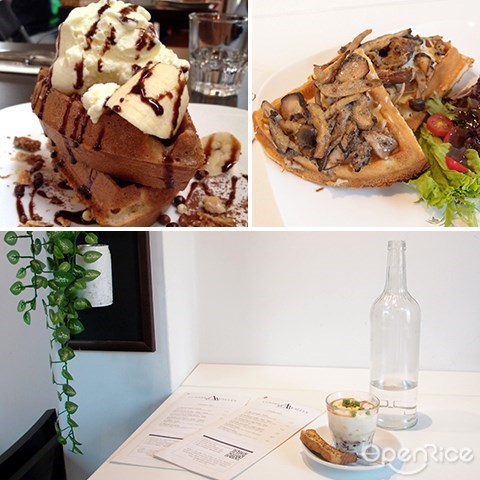 Hidden behind an alley, we almost missed
Coffee Valley's
black door. We were welcomed by a display of colourful trinkets and fragrant aroma of coffee after climbing up a flight of stairs. With waffles being the main star at this café, we couldn't possibly miss out on them. The recommended Mushroom Waffle Bruschetta consisted of one of the best crispy and fluffy waffles we've tried, topped with mozzarella cheese, sautéed mushrooms and drizzled with garlic and herbs oil. What we'll be trying next: Smoked Duck Brunch Set with some desserts of course.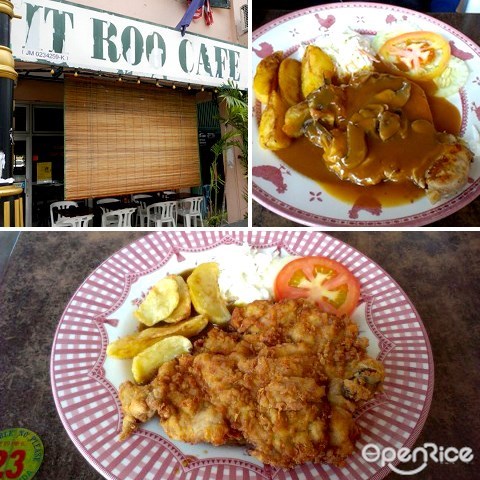 (Image from xseralo.blogspot.sg)
Awarded the "Best Chicken Chop in Malaysia" title by The Star newspaper way back in 2003, this no-frills café in Johor Bahru is still dubbed to have the "best chicken chop in town". 2003 is more than 10 years ago though, so we went there without high expectations. You can choose to have your chicken chop either grilled of deep-fried, drizzled with mushroom or black pepper sauce. Each plate also comes with a side of coleslaw and potato wedges. Verdict? The chicken chops were cooked to perfection - tender and juicy. We'd definitely be back for more. *This article is originally from
Openrice Singapore
.
Other Related Topics